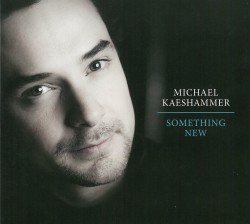 Something New
Michael Kaeshammer
Linus Entertainment 270337 (linusentertainment.com)
There can be no question that talented pianist and vocalist Michael Kaeshammer has been on a trajectory of excellence since his first JUNO nomination in 2001. Having entered the jazz world as a wunderkind, Kaeshammer is now a fully realized mature artist, and with his latest release (which he also produced) he has plumbed the depths of the New Orleans sound. He is bolstered on this heady trip down South by some of the finest jazz musicians on either side of the Mason-Dixon Line, including Cyril Neville, George Porter Jr., legendary drummer Johnny Vidacovich, Mike Dillon, the New Orleans Nightcrawlers Brass Band and bassist David Piltch. Other noted guests include Colin James, Randy Bachman, Curtis Salgado, Jim Byrnes, Amos Garrett and Chuck Leavell of the Rolling Stones.
Of the original 11 tracks on this CD, ten were penned by Kaeshammer and all were recorded at the historic Esplanade Studios, located in the heart of New Orleans' Treme District. Kaeshammer has unapologetically blurred the musical lines here between boogie-woogie, trad jazz, blues, straight ahead jazz, Zydeco and more. The CD kicks off with Scenic Route. On this groovy cooker, Kaeshammer sings with a new depth and intensity. The tight horn section and relentless, skilled drumming from Vidacovich make this track a standout.
Also wonderful is Do You Believe – where meaty vocals and harmonica from Salgado and the brilliant horn arrangement by saxophonist/pianist Phil Dwyer ensure that this track is a thing of beauty. Also of note is the melancholy Weimar, which parenthesizes the project, and puts Kaeshammer's lyrical and romantic piano chops firmly on centre stage.