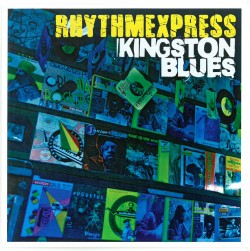 Kingston Blues
Rhythm Express
Side Door Records
(rhythmexpressband.com)
With its second release, Rhythm Express has once again created a joyous musical outpouring, drenched in the potent, irresistible rhythms of both traditional and contemporized reggae with an added big dollop of urban funk. Drummer and percussionist Everton "Pablo" Paul acts as executive producer here, with legendary, versatile, international keyboardist and arranger Bill King producing. This thoroughly engaging project features 12 tasty tracks, including both covers of classic hits and original compositions – all gorgeously presented, sung and performed with the deepest of grooves and purest of intent.
In addition to Paul and King, the CD features talented guest artists Julian Taylor on vocals, guitarist Jon Knight of Soulstack, as well as skilled, soulful, sweet and funky singers Maiko Watson, Michael Dunston and Ammoye Evans. Also onboard is guitarist/engineer Shane "Shaky J" Forrest, bassist Jesse "Dubmatix" King, percussionist Magdelys Savigne and a first-rate horn section off Alexander Brown on trumpet, Michael Arthurs on tenor sax, Bobby Hsu on alto sax and Christopher Butcher on trombone.
Sizzling tracks include the dynamic cooker Welcome to Funkastan – a high-octane instrumental defined by King's blazing horn-driven arrangement, propelling us all down the groove highway; the ridiculously funky Soul Nation featuring Watson and Dunston on volcanic vocals and Hercules, Dunston's take on Aaron Neville's glorious, authentic celebration of reggae style. Also outstanding are Jimmy Cliff's Many Rivers to Cross, perfectly rendered by Julian Taylor and Hard Driver – Vivian Lee's underground hit featuring electrifying chanteuse Ammoye Evans as well as a nostalgic, timeless, monaural sound. Put on your dancing shoes and enjoy!