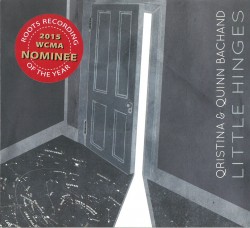 Little Hinges
Qristina & Quinn Bachand
Beacon Ridge Productions BRP15 (qbachand.com)
Little Hinges is the third album by Qristina and Quinn Bachand, a brother-sister folk/roots duo from the West Coast. Split into two distinct sections, this album is a curious blend of old and new – traditional songs are mixed with original tunes, and numerous sound fragments (such as steps, doors, crackles – adding an interesting textural component) are incorporated throughout. The first half of the recording, although containing a couple of original tunes, has a traditional Celtic roots feel to it. The moving Crooked Jack is a standout with captivating vocals, textured claw-hammer banjo and lovely violin lines. The short interlude Little Hinges sets the mood for the second half of the album – dreamier, darker, with a hint of the cinematic, a glimpse into a different world. Hang Me is dark and gloomy, with many textural layers and beautiful arrangements. Three Little Babies smartly increases the distorted textural sounds throughout to emphasize the emotion of the song. The album concludes with a bright traditional tune with a homey feel – Hangman's Reel – showcasing both Qristina and Quinn on fiddles.
I appreciated the notes and descriptions relating to each song in the liner notes – it added a layer of intimacy, a sense of familiarity with the music. Although young, Qristina and Quinn are both award-winning musicians and engaging performers. Their synergy captivates the listener on every level – truly enjoyable.