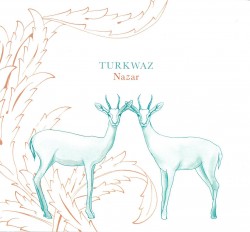 Nazar
Turkwaz
Independent Turkwaz01 (facebook.com/NazariTurkwaz)
With their first album Nazar, the Toronto based vocal quartet Turkwaz introduces a wondrous world of uniquely imaginative songs. This compilation features a selection from the Middle East, Turkey, Greece and the Balkans, collected individually over many years. While the songs themselves are traditional, the creative vocal arrangements and the use of exotic world instruments make this music delightful to the ear and harmonically surprising at times. Turkwaz – Maryem Tollar, Brenna MacCrimmon, Sophia Grigoriadis and Jayne Brown – sounds both pure and raw, with sincerity and sentiment that comes from their deep appreciation of this music. Their individual voices are light yet loaded with emotion.
Collectively, the intended textures of their voices are exquisite. The lyrics, sung in Turkish, Arabic, Greek, Macedonian and Bulgarian, are pure poetry, and for the most part fragrant with love themes. Nested in between the songs are expressive improvisatory vignettes by guest artists – Demetrios Petsalakis (spectacular on bağlama, outi), Nagmeh Farahmand (daff, tombak), Ernie Tollar (duduk, bansuri flute, saxophone) and Andrew Downing (cello).
Among many charming songs, a few numbers stood out for me. Send Me a Message My Love, The Beloved Visited Me in the Myrtle Garden, Love on a Rainy Day and the lively Alexandris/Grandpa's Brandy all share alluring harmonic twists and delicately ornamented melodies, the power of voices being a driving force. The word nazar is derived from Arabic "sight" or "seeing." It is a perfect title for this album as the members of Turkwaz bring forward their musical vision to each song.