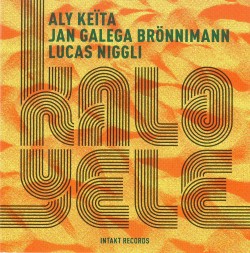 Kalo-Yele
Aly Keïta; Jan Galega Brönnimann; Lucas Niggli
Intakt CD 261 (intaktrec.ch)
This record marks a kind of homecoming for the Swiss drummer Lucas Niggli and reed player Jan Galega Brönnimann. The two became childhood friends in Cameroon and later played together in numerous bands in Switzerland and France during their teenage years. In the 30 years since, Niggli has focused on free jazz and composition while Brönnimann has played electronic jazz and world music. Presented with an opportunity to work with Aly Keïta, Côte d'Ivoire master of the balafon, a marimba-like instrument with calabash resonators, Niggli invited his old friend to make this a trio.
The musical results are consistently remarkable. Niggli is at once one of the world's most precise percussionists and one of the most creative, exploring a host of sounds from drums, cymbals and gongs while layering complex patterns and interacting with his partners. Aly Keïta has transformed the traditional balafon, crafting a chromatic version of the hyper-resonant instrument. Emphasizing his bass and contrabass clarinets, Brönnimann is as apt to play rhythmic patterns as traditional melodies. The parts all course together into a series of highly distinctive pieces, from the jazz-like beats of Niggli's Bean Bag, to the piquant sweetness of Brönnimann's wriggling soprano saxophone on Keïta's joyously complex Abidjan Serenade, which gains layer upon layer of rhythm. Other fine moments include the sudden contrast of scraped cymbals and gritty contrabass clarinet on Brönnimann's Bafut and the explosive riffing of Keïta's Adjamé Street that concludes the CD.
The music resounds with the discovery of a new world, an Africa of the imagination that has coalesced in a Bern recording studio.