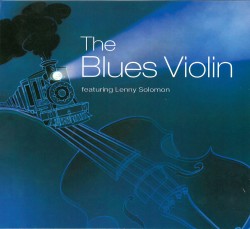 The Blues Violin
Lenny Solomon
Independent #301 (thebluesviolin.com)
After the international success of his show Bowfire, Lenny Solomon is returning to his roots with his newest release The Blues Violin. This JUNO Award-winning Toronto musician has built a solid reputation as a jazz violinist, though he has a lengthy classical and pop background. The music on this album journeys through different blues styles but that is not all – Lenny Solomon adds jazz, funk and rock elements with the craftsmanship of a mature artist. The rhythm section (Marc Ganetakos, guitar; Shelly Berger, bass; Mark Lalama, keyboards; Steve Heathcote, drums and percussion) provides a wonderful landscape for the savvy violin solos and shines in solos of their own. Greg Kolchinsky, who recorded and mixed this album, did a fine job bringing out the variety of electric violin sounds.
The recording opens and closes with lively jazz numbers - Jumpy gives a nod to the Jump Jive sound and features fluent violin solos and buoyant horns while Jojo, in addition to the impressive violin improvisations, offers the spotlight to the rhythm section. In between are mellow compositions such as Winter Tears and Slow Side into Blues (this one evocative of Stephane Grappelli's style) and more animated ones – Half Full Blue, with its majestic opening and a rock beat, and Spooky Blues, with clear violin lines over funk guitar. Edgar's Blues stands out for its wah-wah violin effects – the violin sound is stimulated with electronics and controlled by the movement of the player's foot, creating an expressive tone that mimics the human voice.
Highly recommended for escaping the winter blues.