Carl Schuricht was an esteemed German conductor in the first half of the 20th century. He was born in Danzig into a dynasty of organ builders in 1880 and studied at the Berlin Hochschule from 1901 to 1903. During his first years as a conductor he was to be heard in Mainz, Kreuznach, Dortmund, Goslar and Zwickau. From 1909 he conducted the Rühl Oratorio Society in Frankfurt-am-Main. From 1912 to 1944 he was the chief conductor and general music director of Wiesbaden and was also active as a guest conductor. He was a guest of the St. Louis Symphony in 1927. After 1944 he conducted and recorded with the finest orchestras, the Vienna, Berlin and London Philharmonics, the Swiss Romande Orchestra, etc. In 1956 he returned to North America with the Vienna Philharmonic on a 12-city tour, appearing in Washington, New York, Cleveland, Cincinnati and elsewhere on the East Coast, and including Toronto's Massey Hall on November 28, winding up before the General Assembly of the UN in New York on December 10. He continued to conduct concerts and record in Europe over the next decade. He died in 1967.
Today, as time and technology march on, his name is really familiar only to collectors such as those who support the long list of his recordings at amazon.com (far fewer at amazon.ca and elsewhere). Newer editions appear from time to time, the most recent from Audite and Decca which contain interesting and engaging performances reflecting his sensitivity and understanding of the composer's intentions.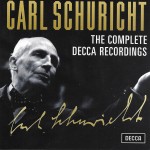 Decca's CDs are in a compact box, Carl Schuricht; The Complete Decca Recordings (4831643, 10 CDs). Part of this set is contained in Decca's Original Masters five-CD set from 2004 with some interesting additions. There is a Beethoven Second taken from the 1947 78s with the Swiss Romande, produced by the renowned Victor Olof, who produced just about all the (then) state-of-the-art recordings in this collection, all of which, barring this one, sound very clean and dynamic. Another 1947 Swiss Romande recording features violinist Georg Kulenkampff and cellist Enrico Mainardi in the Brahms Double Concerto. There are many others worthy of attention leading to the tenth disc, an all-Wagner program played by the Paris Conservatoire Orchestra, France's leading orchestra at the time consisting of professors from the Conservatoire and their pupils. Heard are the Prelude and Liebestod from Tristan and Siegfried's Rhine Journey leading into Siegfried's Death and Funeral March from Gotterdämmerung. Heaven only knows how many times I've heard these but I do not recall being so affected by the poignancy of the Tristan nor the sweep of the Siegfried. There is a wealth of superior performances here, sounding clean and dynamic, so do check them out at arkivmusic.com for complete details, except recording dates.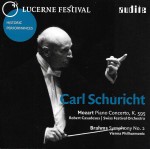 The Audite CD (Lucerne Festival Historic Performances, Vol. 11: Carl Schuricht Conducts Mozart & Brahms, Audite 95645) finds Schuricht joined by pianist Robert Casadesus with the Swiss Festival Orchestra playing Mozart's Piano Concerto No.27 in B-flat Major, K595 on August 19, 1961. Schuricht had been appearing at the Lucerne Festival since the end of 1944 when he conducted Beethoven's Missa Solemnis. He was welcomed there as "the only representative, apart from Otto Klemperer, of the generation of old German conductors still remaining active." The Neue Zürcher Zeitung later reported that "Even if the 81-year-old has difficulty walking to his podium, his music making has remained astonishingly young. His economical, precise beat and the security and suppleness with which he effects modifications of the basic tempo give no hint of fatigue or decline of mental or emotional faculties." The second item of concerts from Lucerne is the Brahms Second Symphony from September 8, 1962 with the Vienna Philharmonic. A listener might care to compare this performance with the 1953 version also with the Vienna Philharmonic in the above Decca set. It certainly shows what this 82-year "old German conductor" could draw from an orchestra.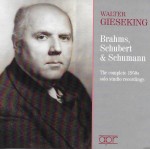 I remember years ago collecting the recordings of Walter Gieseking, including the various Schubert shorter pieces that he played with such élan and affection that one would think that they were personal friends. Appian has released a four-CD set of Gieseking's complete solo recordings of Brahms, Schubert and Schumann that he made for English Columbia in the 1950s (APR 7402, 4 CDs). After looking over the list of contents, I put disc two into my player to hear again Gieseking playing the eight Klavierstücke, Op.76; the Seven Fantasies, Op.116; the Three Intermezzi Op.117 and the six Klavierstücke Op.118. There were some disappointments but many more were just as I remembered. Perhaps the overload of hearing one piece and then another and another is not really an ideal way to judge a work, nor fair to the artists. An overload.
Of interest is that the above four works were recorded over three days, June 20 to June 22, 1950. Unlike many of his colleagues Gieseking enjoyed making recordings. He just sat there and played, so this must have been a treat for him. Also he claimed that he never practised as giving recitals was practise enough. He had the score clearly in his head. The third disc contains the two sets of Impromptus Op.90 and 142. The fourth and last disc with Schubert's Six Moments musicaux Op.94 and Three Pieces D946 concludes with two Chopin pieces, the Berceuse Op.57 and the Barcarolle Op.60 and two Scriabin pieces, Poème Op.32 No.1 and Prélude Op.15 No.4.
A better way to clear one's musical taste buds would be to return to disc one for Brahms' Klavierstücke Op.119 and the Two Rhapsodies Op.79 followed by some music by Brahms' close friend, Schumann. Here is a gentle reading of Kinderszenen Op.15 and an enthusiastic, at times passionate version of Carnaval Op.9; then a farewell with Schlummerlied, No.16 of Albumblätter Op.124 and some parting notes from the enigmatic Vogel als Prophet, No.7 of Waldszenen Op.82.
There was nothing pretentious about Gieseking's playing. One gets the distinct feeling that he is sharing his thoughts. Simply, the art that conceals the art.