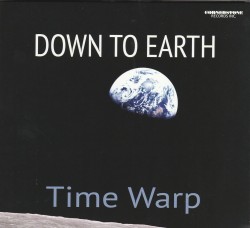 Down to Earth
Time Warp
Cornerstone Records CFST CD 159 (cornerstonerecordsinc.com)
Formed in 1980 by drummer Barry Elmes and bassist Al Henderson as a forum for their compositions, Time Warp became one of the leading Canadian jazz bands of its era. Rooted in hard and post-bop, it also integrated world music materials, including Asian, African and Latin American elements. Initially a trio with Bob Brough, the group added Mike Murley in 1985, giving it a particular snarl when the two saxophonists both played tenors. Down to Earth was originally released on cassette, but the rediscovered original tapes have been restored, remixed and remastered for this CD.
The compositional emphasis shows in the brevity of the treatments, with ten tracks packed into 45 minutes, but the concentration intensifies the music. Henderson and Elmes create masterful grooves, apparent from the outset on Elmes' Blue Mustard, a soul jazz demonstration of the drive of twinned tenor saxophonists. There's even more evidence of jazz showing its blues roots on Henderson's Muddy's Blues, complete with mimetic honks and wails from the saxophones. There's variety as well, though, with the Japanese undercurrent to Black Koto, the high-speed bop of Sonny's Tune and Backlash and the moody Solar Wind. There's an added rhythmic complexity to Nightwing, a slightly Latinate feature for Brough's alto saxophone, and Clunker, which brings Henderson and Elmes to the foreground.
Time Warp's personnel altered through the following years, with leaders Elmes and Henderson as the constants; their last release, Warp IX, marked their 20th anniversary in 2000. Cornerstone is currently reissuing their earlier recordings.