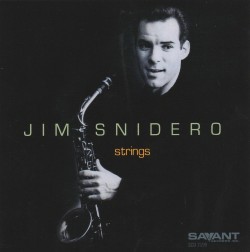 Strings
Jim Snidero
Savant Records SCD 2199 (jimsnidero.com)
On September 10, 2001 alto saxophonist Jim Snidero could not have predicted what a trajectory this album would take. Set to record on September 11 in New York City, unexpectedly postponed due to the tragic circumstances, this fine album was originally released in 2003 and reissued on September 10, 2021. A lot can happen in a musician's career and the world itself in the span of 20 years but Snidero's music remains relevant and touching, depicting the weight of its times.
Originally written and arranged for a jazz quartet and a 10-piece string ensemble, the reissued version has an added double bass in the string section and an enhanced sound. I loved the sound of the strings on this album – lush, expansive, dreamy and all encompassing. Snidero's arrangements work very well in all the tunes. The album showcases six original compositions and two standards, and is heavy on the ballads. River Suite, comprised of three parts, is especially captivating. A homage to the Hudson River, this gorgeous music tells a story of an innermost experience. Absolutely devilish solos by drummer Bill Drummond and violinist Marc Feldman in the third part of the suite, Torrent, are whirling with intense energy.
Featured are some memorable solos by the fantastic Renee Rosnes (piano), Paul Gill (bass) and Tomas Ulrich (cello). Snidero's sax interacts with the strings in the most natural way. His solos demand attention and bring in lyricism to unexpected places. With just a touch of nostalgia, Snidero's compositions are sonic evocation of the times past. You will find Strings incredibly satisfying.