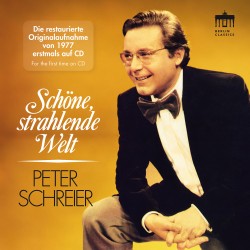 For those who may not recall his name, Peter Schreier was regarded as one of the finest lyric tenors of the 20th century. He was renowned for his Bach, Mozart, Beethoven, Schubert, Mahler and Wagner in addition to incomparable lied recitals and recordings. Schreier was also a respected conductor. He was born in Meissen, Saxony in 1935 and died in 2019 in Dresden. He toured the world including recitals in Toronto. Berlin Classics has selected 19 familiar melodies issued in 1976, for re-issue as Schöne, Strahlende Welt (Beautiful Radiant World). Although sung in German, a language that I do not speak, I had been totally absorbed by the beauty of Schreier's voice and his delivery of the lyrics since about the 1970s. Included here are Schreier's famous versions of Granada, La Danza and O Sole Mio, along with Toscelli's Serenade, Grieg's Last Spring and Ich Liebe Dich, also Leoncavallo's Mattinata. Despite the language barrier, easily recognized are So deep is the night, Love's last word is spoken, Speak to me of love and many more familiar melodies. Here is the embodiment of a perfect lyric tenor in interesting repertoire. (Berlin Classics 0301746BC naxosdirect.com/search/0301746bc).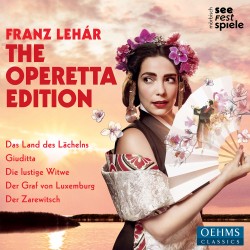 Continuing in the lighter vein, there is a new boxed set of operettas by Franz Lehár produced by the Seefestspiele Mörbisch in Austria. The box contains Das Land des Lächelns from 2001, Guiditta from 2003, Die lustige Witwe from 2005, Der Graf von Luxemburg from 2006 and Der Zarewitsch from 2010. At the helm of the Mörbisch Festival Orchestra is Austrian conductor and pianist Rudolf Bibl (1929-2017), except for Der Zarewitsch under Wolfdieter Maurer. The cast of artists in each of these delightful operettas is far too extensive to identify individually but be assured, each production is echt Lehár and, of course, unmistakably Viennese. As in the Schreier disc above, the librettos are sung in German. (Franz Lehár – The Operetta Edition OEHMS Classics OC1902, 5 CDs naxosdirect.com/search/oc1902).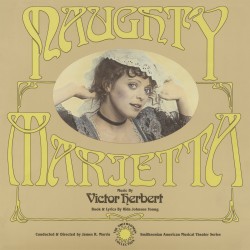 The Smithsonian has reissued their 1980 recording of Victor Herbert's perennial operetta, Naughty Marietta. This performance was produced, directed and conducted by the late James A. Morris, then director of the Smithsonian Institution's Division of Performing Arts. The Millenium Chamber Orchestra is in the pit, and also the Catholic University of America A Cappella Choir. The leads are sung by Judith Blazer (Marietta) and Leslie Harrington (Captain Richard Warrington), with more than 60 voices in the choruses. This bright version will please the audience of live theatregoers. (Harbinger Records, HCD3702 naxosdirect.com/search/hcd3702).
For the past little while I have been listening and re-listening to an album named simply Artur Balsam Plays. Balsam the pianist was born in Warsaw in 1906 and died in New York in 1994. He was and is remembered primarily as the elegant accompanist of many of the prime soloists of the era. Balsam's name would appear second whether it be in concert programs or record labels. In this set are the most exquisite and rewarding performances of piano solos and sonatas, violin sonatas and concertos, dances and a miscellany of named pieces. Composers from Balsam's enormous repertoire represented in these recordings are Brahms, Beethoven, Mozart, Richard Strauss, Hindemith, Muzio Clementi, C.P.E. Bach, Paganini, Hummel, Ravel, Debussy, Franck, Fauré, Milhaud, Dvořák, Wieniawski, Glazunov, Stravinsky, Vitali, Rimsky-Korsakov, Sarasate, Bizet, Carl Engel, William Kroll and Fritz Kreisler. Phew! The artists who join Balsam are Yehudi Menuhin, Michael Rabin, Zino Francescatti, Szymon Goldberg, Nathan Milstein, Joseph Fuchs, Raya Garbousova (the Russian-American cellist), Louis Kaufman, Erica Morini, Zara Nelsova and the Pascal Quartet. This is an unusually agreeable collection and thanks to the host of artists and composers, there is never a dull moment. (Profil PH 21004 10 CDs naxosdirect.com/search/+ph21004)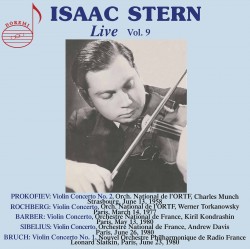 As some readers may have previously discerned, I especially dote on the omni-present sonorities in the sound of Isaac Stern's playing of any score before him. In addition to his commercial recordings many of his admirers have been enjoying Doremi's Isaac Stern Live series derived from live performances around the globe, unavailable elsewhere. Isaac Stern Live Volume 9 contains an impressive performance of the Sibelius from Paris (1980, Andrew Davis) together with the George Rochberg concerto of 1974 from Paris (1977, Torkanowsky). A second CD contains the Samuel Barber of 1939 from Paris (1980, Kondrashin), together with the Prokofiev second from Strasbourg (1958, Munch). Finally in this collection of distinctive performances is the Max Bruch Violin Concerto No.1 from Paris conducted by Leonard Slatkin in 1980. Stern's playing is innately compelling throughout both CDs. (Doremi DHR-8147/8 naxosdirect.com/search/dhr-8147-8).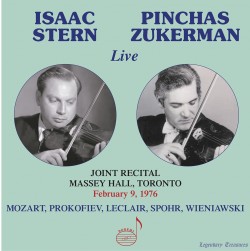 In another new release from Doremi, Isaac Stern shares the stage with Pinchas Zukerman playing works written for two violins for a joint recital in Massey Hall, Toronto from February 9, 1976. Judging from the enthusiastic applause after each work the audience was more than enthralled. Here is what they heard: Leclair Sonata Op.3 No.5; Spohr Sonata Op.67 No.2; Mozart Duo for Violin and Viola K423; Wieniawski Étude-Caprices Op.18, climaxing with the Prokofiev Sonata in C Major, Op.56. There were two encores, by Leclair and Mozart. (Isaac Stern/Pinchas Zukerman Joint Recital Doremi DHR-8099 naxosdirect.com/search/dhr-8099)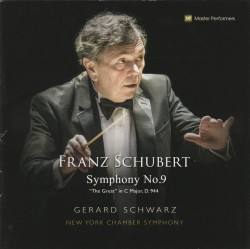 Many of our readers will remember Paul Robinson, classical music director of radio station CJRT-FM (91.1) and the program Records in Review, where for years on Sunday afternoon and Monday evening he and I discussed new releases and basic repertoire. On a recent visit we listened to a performance of the Schubert Symphony No.9 conducted by Gerard Schwarz recorded in 1987 but unreleased until now (Master Performers MP 21 03 masterperformers.com). Our opinions matched and upon request Paul wrote the following:
"The American conductor Gerard Schwarz is probably best known for his 26-year tenure (1985-2011) as music director of the Seattle Symphony. They made dozens of recordings together including standard repertoire as well as works by American composers. But earlier in his career Schwarz conducted the New York Chamber Symphony and made some fine recordings with that ensemble back in the 1980s. One of them was only recently released, a very stylish and energetic performance of the Schubert Ninth Symphony. The orchestra included some of New York's foremost freelance musicians and it sounds like it. Great playing and first-class recording quality. Incidentally, before turning to conducting, Schwarz was a child-prodigy trumpet player, becoming principal trumpet in the New York Philharmonic at the age of 25. And what is he doing now? He is music director of the All-Star Orchestra (www.allstarorchestra.org), an elite ensemble (e.g. the concertmaster is David Kim, concertmaster of the Philadelphia Orchestra) which specializes in making DVDs, largely for an educational market. He is also a professor of music at the University of Miami."