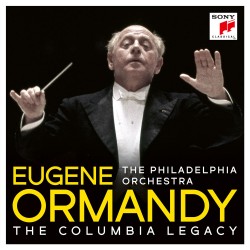 Eugene Ormandy and The Philadelphia Orchestra
The Columbia Legacy – The Legendary Mono Recordings 1944-1958
Sony Masterworks 194397574821 (120 CDs, 200-page hardcover book)
Sergei Rachmaninoff's opinion of the Philadelphia Orchestra as "The World's Greatest Orchestra" was proudly quoted by Columbia Masterworks across the top of the covers of their Philadelphia Orchestra releases on LPs in the 1950s. The actual quote from Rachmaninoff, who made many recordings with the orchestra, was "the finest orchestra the world has ever known" which boils down to the same thing.
The Philadelphia Orchestra was founded in 1900 and in 1910 Leopold Stokowski became their third music director, a post that he kept until 1938 when he was succeeded by Eugene Ormandy. Stokowski's association with the orchestral continued until 1941 and the luxuriant virtuoso character of the orchestra was established during his tenure. The Academy of Music, the orchestra's home, had been designed for opera and was less than an ideal venue for symphonic music. Stokowski adjusted the seating to balance the sonorities. He was an organist and he played the orchestra like an organ and together with free bowing in the strings, cultivated the maximum of colour and texture… the evolution of the famous Philadelphia Sound.
Ormandy was born Jenö Blau in Budapest on November 18, 1899. He was a child prodigy and at the age of five became the youngest student at the Budapest Royal Academy of Music and later won the State Diploma for Violin Playing. He was a pupil of Jenö Hubay, who was also the teacher of Joseph Szigeti and Jelly d'Aranyi. He graduated in 1913 and within four years he was appointed a professorship at the Academy. He modestly pointed out that he was only the third-best violinist in the world, after Fritz Kreisler and Jascha Heifetz.
Blau came to America in 1920 after being tricked by a dishonest impresario into accepting a specious engagement there. It was around this time that he changed his name. He worked as a backbencher at a silent movie orchestra in New York and rapidly advanced to first violin and then conductor of the orchestra at the Capitol Theater, one of the largest motion-picture theatres of the day. Becoming a U.S. citizen in 1927, Ormandy gained professional experience and received plaudits as conductor of the CBS Radio Orchestra. As pointed out in the accompanying 200-page hardcover book, his career was initially guided by pure chance and his ability to see the opportunities that were offered him. It gained irresistible momentum in 1931 when he took over the Minneapolis Symphony Orchestra, his first post as the principal conductor of a symphony orchestra. While there he made a number of Victor recordings including the premieres of Kodály's Háry János Suite, Schoenberg's Verklärte Nacht and a specially commissioned recording of Roy Harris' American Overture, as well as renowned versions of Bruckner's Seventh and Mahler's Second Symphonies which bolstered his reputation.
By 1936, Ormandy had been appointed associate conductor of the Philadelphia Orchestra, second in command to Stokowski, and in 1938 he became that orchestra's music director. Ormandy remained at the helm in Philadelphia until his retirement in 1980, upon which he became conductor laureate. He died in 1985. Under his tutelage Stokowski's practice of free bowing was abandoned and the cohesive, lush and distinctive Philadelphia Sound was further refined and personalized. He believed that the Philadelphia Sound should more properly be called the Ormandy Sound.
His Philadelphia discography began with Nathan Milstein playing a slightly truncated version of the Lalo Symphonie Espagnole, regrettably without the third movement, recorded in November 1944 and March 1945, issued in June of that year. This is, appropriately, the first performance heard in the 120-CD set of every one of the monaural recordings Ormandy made with his Philadelphia Orchestra and the Philadelphia "Pops" between 1944 and 1958. The sound is flawless and solidly real.
There is of course not enough space to list or comment on each performance of this definitive set, but here are some that stand out: Khachaturian's Gayne Ballet; Prokofiev's Alexander Nevsky; Copland's Appalachian Spring; and a spectacular 1953 performance of Rimsky-Korsakov's Scheherazade. Of particular note are recordings from two acoustically superior venues, Glière's Symphony No.3, "Ilya Muromets" from the Broadwood Hotel in Philadelphia, and Saint-Saëns' "Organ" Symphony No.3 from Symphony Hall in Boston, both dating from 1956. There's also lots of Bach (including Ormandy organ transcriptions), Beethoven, Brahms, Tchaikovsky and lighter fare from Gershwin, Franz Lehár, Victor Herbert and Richard Rodgers. Soloists include such noted instrumentalists as Rudolf Serkin, Robert Casadesus, Oscar Levant, György Sándor, Claudio Arrau, Eugene Istomin, Gregor Piatigorsky, Joseph Szigeti, Isaac Stern and E. Power Biggs. Some of the finest singers of the era are included – Bidu Sayão, Stella Roman, Martha Lipton, Frederick Jagel, Jennie Tourel, Richard Tucker and David Lloyd, to name just a few – plus the Westminster and Temple University Choirs and the Metropolitan Opera Chorus. The list goes on and on (and on).
So here we have it: "The world's greatest orchestra" with their chosen music director playing music from Bach to the modern era, in remastered recordings, many of which are issued here for the first time on CD. Should it be changed to "The Ormandy Sound"? With 152 recordings on CD for the first time ever, 139 recordings for the first time on CD as authorized releases from the original masters and 16 remastered recordings, all featuring their original LP artworks, there's a good case to be made for that here!