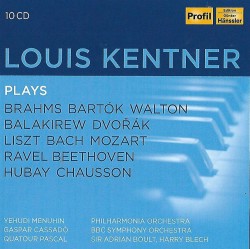 Louis Kentner Plays
Louis Kentner
Profil/Hänssler PH20085 10 CDs (naxosdirect.com/search/ph2008)
Pianist Louis Kentner was born on July 19, 1905 in Karwin, then a part of Austrian Silesia, now Karvina in the Czech Republic. His parents were of Hungarian origin and named their son Lajos. Having later settled in London, in most modern biographies he appears as a British pianist and composer.
Kentner was highly gifted musically and from 1911/12 he studied at the Franz Liszt Academy in Budapest where he first came to attention with a concert performance of Chopin. At the Academy he studied piano with Arnold Székely, chamber music with Leo Weiner and composition with Hans Koessler and Zoltán Kodály.
He made his official debut in 1915 and began concert tours in European cities attracting attention with his interpretations of Chopin and Liszt. He won the Chopin Prize in Warsaw and the Liszt Prize in Budapest. In 1933 he gave the first Hungarian performance of the Bartók Second Piano Concerto (with Otto Klemperer) and in 1946 the first performance in Europe of the Third Concerto under Sir Adrian Boult.
Kentner had settled in London in 1935 and was given British citizenship in 1946. Audiences were unstinting in their appreciation of his Mozart and he also gave radio performances of complete cycles of Beethoven and Schubert sonatas. He had a keen interest in Baroque music, especially Bach's Well-Tempered Clavier.
Looking through Kentner's repertoire on these ten discs poses the usual question, what to play first? Here are the composers: Brahms, Bartók, Walton, Balakirev, Dvořák, Liszt, Bach, Mozart, Ravel, Beethoven, Hubay and Chausson. Assisting artists are Yehudi Menuhin, Gaspar Cassadó, the Pascal Quartet, the Philharmonia and BBC Symphony Orchestras, Adrian Boult and Harry Blech. As Kentner enjoyed a reputation for his Liszt, there is of course the B Minor Sonata recorded in 1937. Wagner found this work to be "beautiful beyond all conception," and Kentner takes this to heart in the last two pensive and reflective sections of this one-movement masterpiece.
There is also a disc of 15 short Liszt delights including Un Sospiro, La Campanella and Gnomerneigen. Yehudi Menuhin is heard in Bach's Six Violin Sonatas BWV1014/1019. Also with Menuhin is the Walton Violin Sonata recorded in 1950. The Bartók Third Concerto is here with Boult and the BBC Symphony. The rest are not all the usual suspects found in such collections and this one is certainly worth investigating.
Kentner had a recognizable sound that identifies his playing throughout this unique collection.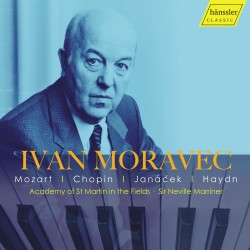 Ivan Moravec Edition
Ivan Moravec; Academy of Saint Martin in the Fields
Hänssler CLASSIC HC 20084 4 CDs (naxosdirect.com/search/hc20084)
It was only recently that we raved about an 11CD Ivan Moravec set, Portrait, published by Supraphon, of incomparable performances from their and others' archives of solos and concertos. Every performance on those discs remains a treasure. This new 4CD set from Hänssler is headlined by four Mozart concertos in collaboration with Neville Marriner and the Academy of St Martin in the Fields. It begins with No.20 in D Minor K466 which is meltingly beautiful in every respect, both performance and recording. This is followed by No.23 in A Major K488, and on disc two Nos.24 in C Minor K491 and 25 in C Major K503.The recordings were made in the Henry Wood Hall in 1997 and 1995. CD three contains sonatas by Haydn and Janáček, Chopin's Preludes 17 to 24 and a couple of (presumably) encores by Debussy and Chopin, all recorded at the 2000 Prague Festival. The fourth CD finds Moravec in the Academy of Arts and Letters in NYC playing the Chopin Funeral March Sonata and half a dozen Chopin favourites rising to a triumphant Polonaise No.7 Op.61. Another stellar collection from the Moravec vaults.