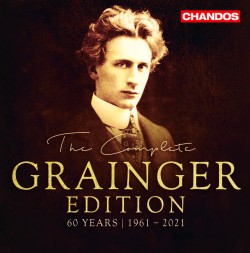 I was not surprised when I searched for Percy Grainger in Amazon to be faced with so many pages of CDs devoted to this ex-pat Australian composer. In addition to this, Chandos has issued The Complete Grainger Edition (CHAN 20196(21) naxosdirect.com/search/chan+20196) on 21 CDs at a special price to commemorate the 60th anniversary of his death with definitive new recordings.
So, who was Percy Grainger? What kind of music did he write? George Percy Aldridge Grainger was born in Brighton, Victoria, Australia on July 8, 1882 and died in White Plains N.Y. on February 20, 1961. He studied piano for five years with his mother who was a professional teacher and then in Melbourne with Louis Pabst. When he was ten, he gave a series of recitals that earned him the money to study in Germany. From 1894 to 1900 he was a pupil of James Kwast in Frankfurt and following this he had some instruction from Busoni in Berlin. Think of that: he worked with Busoni! He made some appearances in Germany but it was not until he went to London that his career took off.
Grainger toured Great Britain, Australia, New Zealand and South Africa and then in 1906 he met Grieg and was invited to visit him at his home in Norway. They spent the summer of 1907 working on a piano concerto that Grieg was preparing for the Leeds Festival. Unfortunately, Grieg died before the concert but Grainger continued as planned as the soloist. His name became connected to the work and later in his career he recorded that concerto with Leopold Stokowski and the Hollywood Bowl Orchestra, a recording that must have made Victor a nice ROI. Grainger had made his American debut on February 11, 1915 playing the Grieg with the New York Philharmonic. From then on, the U.S. was to be his home and he was naturalized in 1919.
As a composer, he was largely self-taught and he wrote some larger works including an imaginary ballet, The Warriors, and instantly attractive, beautifully crafted works in various forms. In the age of AM radio, every station had a library of Grainger's recordings to please and reward their listeners' attention. Listeners recognized the tunes and many became Grainger fans. His works fall into these groups: works for orchestra; for chorus; for voice and piano; for piano solo and four hands; and chamber music. As expected, these groups have sub-groups, all of which are contained here in performances that are idiomatic and reflect an esprit de corps in this most welcome project.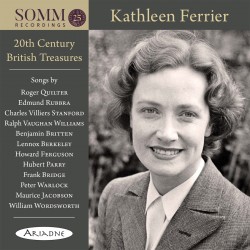 One of the more interesting recording labels is SOMM, situated in Surrey, England. Many long years ago we looked to SOMM for resurrecting out-of-print performances conducted by Sir Thomas Beecham, Hamilton Harty, Constant Lambert and others. Recently SOMM has been responsible for a host of CDs of irreplaceable performances by contralto Kathleen Ferrier and here is another, 20th Century British Treasures (SOMM Ariadne 5010 somm-recordings.com). These are settings of 28 verses written by Tennyson, Rossetti, Keats, Shakespeare, Brooke, Robert Duncan and many others including St. Teresa of Ávila and the Psalms. The composers are Parry, Quilter, Vaughan Williams, Stanford, Bridge, Warlock, Jacobson, Rubbra, Wordsworth and Ferguson. These are for voice and piano plus two with orchestra, Britten's Flower Song and Berkeley's Four Poems. The initial audition became an unexpected 80-minute session of simply listening for pleasure. There is Ferrier's presence in every phrase in these fine-sounding recordings made by Decca and the BBC between 1946 and 1952. She was and remains a treasure.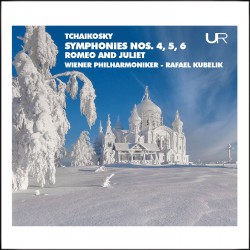 There are times when I am of the mind that Tchaikovsky is the greatest, especially when listening to the ballets, the six numbered symphonies, Manfred and the concertos. I am listening, for the umpteenth time, to the last three symphonies, this time in a budget reissue Kubelik conducts Tchaikovsky – The Last Symphonies with the Vienna Philharmonic (Urania WS 121.391 naxosdirect.com/search/ws121391). The enthusiastic performances by the orchestra are polished and dynamic. These thrilling recordings from 1960 are thoroughly recommendable. Possibly EMI originals. There is a bonus… a passionate Romeo and Juliet Overture from 1955. A first-class bargain. I should mention that these Urania CDs are made in Italy and are the finest quality.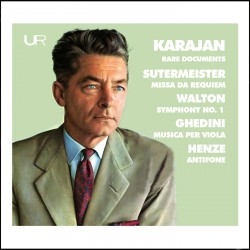 Fans of Herbert von Karajan will be surprised and delighted at the works in a new budget-priced 2CD set titled Karajan Rare Documents. Compiled by Urania (WS 121-389 naxosdirect.com/search/ws121389), it presents the late maestro in, not his usual staples, but performances of works new to his enormous recorded repertoire. Heinrich Sutermeister (1910-1956) was a Swiss composer best known for his opera Romeo und Julia. We hear his Missa da Requiem as performed in Rome on November 21, 1953. The soloists are Elizabeth Schwarzkopf and bass Giorgio Tadeo with the RAI Symphony Orchestra and Chorus. The work is cast in the usual sequence of Introitus, Dies Irae, Offertorium, Sanctus and Agnus Dei. The performance is intense, with the large, full-throated chorus in perfect ensemble and what amounts to duets between the soloists in the final movement. The mono sound is impressive with a you-are-there perspective. Next up on this most unusual collection is the William Walton Symphony No.1 with the same orchestra on December 5, 1953, followed by Giorgio Federico Ghedini's Musica da Concerto per Viola e Orchestra with soloist Bruno Giuranna from the same date. Finally, from Berlin in 1963, the Berlin Philharmonic in Hans Werner Henze's Antifone. Unfortunately there are no liner notes enclosed; not a word beyond the performance dates.
Josef Lhévinne was a Russian-American pianist who was one of, or as his contemporaries openly avowed, the finest of his generation. Born in Oriol (near Moscow) in 1874, he was the ninth of 11 children of Arkady Levin, a trumpet player. Josef was already playing the piano at the age of three. At a gathering when aged 11 he played Beethoven's Moonlight Sonata and the Liszt transcription of the Pilgrims' March from Tannhäuser. Present at the soiree was the Grand Duke Constantine who asked the young pianist if he wanted to study at the Moscow Conservatory. Upon an enthusiastic reply, the Duke influenced a wealthy munificent banker to make it so and Josef became a pupil of Vasily Safonov. He received daily lessons that dramatically transformed his whole approach to piano playing. Josef graduated from the conservatory – where his colleagues and fellow students included Rachmaninoff and Scriabin – in 1892 with the gold medal.
He made his American debut on January 27, 1906 playing with the Russian Symphony Orchestra. When he began playing in Europe, his manager altered the spelling of his name to Lhévinne, to sound a lot less Jewish. Josef insisted though, that it was to be pronounced Lay-VEEN. There is a wealth of biographic material in the liner notes… too many events to cover here including internment during WWI and the events that led him to teach at Juilliard in NYC.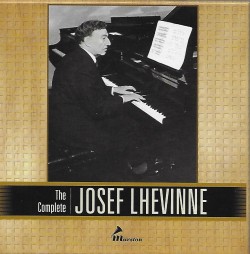 Marston Records has meticulously restored all the known recordings of this legendary figure, including all the published discs and private recordings, in the best possible sound on The Complete Josef Lhévinne (53023-2 marstonrecords.com). The earliest performance we have is from December 1920 – recorded by American Pathé in New York – of the Trepak from Tchaikovsky's Op.72. Acoustic and non-electric, we can quite clearly hear every note, albeit bathed in the expected 78 rpm shellac sound. After three more tracks from Pathé recorded in successive years comes his first from marvellous Victor electrical recordings. On May 1, 1929 he recorded the Arabesques on Themes from the Beautiful Blue Danube followed by pieces by Schumann and Chopin. On this first disc his wife Rosina joins him in the first of four duets in Debussy-Ravel Fêtes and two versions of Mozart's Sonata for Two Pianos K448 in two sets of masters recorded on the same day. Included on the second disc is the piano concerto K242 arranged for two pianos with John Barbirolli conducting the New York Philharmonic in 1939. In total there are 39 tracks of Mozart, Brahms, Schumann, Chopin, Tchaikovsky and Rachmaninoff on these three discs, a must-have for collectors.