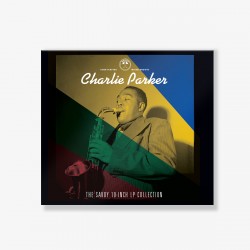 The Savoy 10-inch LP Collection
Charlie Parker
Craft Recordings CRO00010 (LP)/CRO2774 (CD) (charlieparkermusic.com)
Charlie Parker was a singularly creative force in bebop, influencing jazz improvisation on a scale comparable only to Louis Armstrong, Miles Davis and John Coltrane. The alto saxophonist's greatest studio work was done in the 1940s, recorded by small, devoted companies. This set of four 10-inch LPs (or single CD) commemorates not just Parker's Savoy recordings but replicates the form of his canonization. Originally released as 78-rpm records, one track per side, Parker's principal work for Savoy – 28 tracks of it – were reissued as New Sounds in Modern Music Volumes 1-4, on four 10-inch LPs between 1950 and 1952.
Tracks weren't in scholarly chronological order: Volume 3 leaps from 1948 to 1944, covering the range of the recordings in reverse and putting a swing rhythm section including pianist Clyde Hart and guitarist Tiny Grimes after cool jazz progenitors Miles Davis and John Lewis on the set's last session. Why revisit this order? It best captures Parker's impact as bop spread its influence, the last time jazz genius compressed its full flight into three-minute units. Armstrong's Hot Fives and Sevens, from two decades earlier, are the only comparables.
Listening to Parker in this form, you hear the moments of transformation, as he uncovered new dimensions of harmony and rhythm with unparalleled joy, in company whose talents (Bud Powell, Dizzy Gillespie) sometimes approached his own. Parker soared as few other musicians have and soared highest here on recordings like Ko-Ko, Parker's Mood, Cheryl and Constellation.