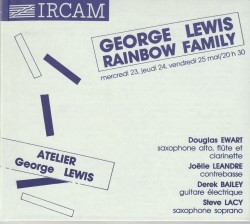 Atelier George Lewis – Rainbow Family 1984
George Lewis; Joëlle Léandre; Derek Bailey; Steve Lacy
Carrier 051 (carrierrecords.com/album/rainbow-family)
While forward-looking musicians (Sun Ra, Bob James) began fusing improvisation and electronic elements in the 1950s and 60s, composer/theoretician/trombonist George Lewis was among the very first to extend improvisational methodologies to computer programming. Best known for the work Voyager (beginning in 1986), he had entered the field with The Kim and I, a duet for trombone and programmed Moog synthesizer in 1979.
Rainbow Family is a previously unreleased 1984 concert from IRCAM in Paris. It integrates human and programmed computer improvisation, the program generating both its own material and reacting to the work of live improvisers through three Apple computers controlling three DX-7 Yamaha synthesizers. The work includes segments with individual improvisers – bassist Joëlle Léandre, guitarist Derek Bailey, bass clarinetist/flutist Douglas Ewart and saxophonist Steve Lacy – then Ewart and Lacy combine with the machinery before all four engage simultaneously with the program.
What's most fascinating is how the program can match individual musicians' distinctive approaches, whether adapting to the fluidly expressive lines of Ewart, the playfully analytical approach of Lacy, or the comparatively abstract inventions of Léandre and Bailey. The synthesizers do what the improvisers do, balancing their own impulses with the sonic environment in which they find themselves. As one might expect, the later pieces with more musicians are significantly more complex and generally richer, a genuine meeting of human improvisation and human-constructed, programmed improvisation.
Rainbow Family has taken 36 years to appear, but it's definitely worthy of contemporary attention.