His biography in the enclosed booklet begins, "Henryk Szeryng's (1918-1988) career was unusual." Somewhat of an understatement. Szeryng was born in Żelazowa Wola near Warsaw, Poland into a wealthy Jewish family and his mother began teaching him piano and harmony when he was five years old. Aged seven, he became interested in the violin, taking lessons from Maurice Frenkel, then Carl Flesch in Berlin. He made his debut in Warsaw on January 6, 1933 playing with the Warsaw Philharmonic Orchestra under George Georgescu performing the Brahms Violin Concerto. That concerto became the centrepiece of his repertoire through the years. In Paris, where he had moved with his family, he studied philology, philosophy, prehistory and early history at the Sorbonne. He spoke seven languages perfectly, being fluent in German, English, French, Italian, Portuguese and Dutch, plus he understood all the Slavonic languages. After Poland was attacked in1939, Szeryng accompanied the Polish Prime Minister in exile to Mexico where he remained until 1954 when Artur Rubinstein encouraged him to begin concertizing again. By 1955, he was already engaged to play concertos with the Sudwestfunk Symphony Orchestra of Baden-Baden under the baton of Hans Rosbaud. Soon he was touring and performing worldwide. In 1960, he was elevated to Mexican Cultural Ambassador in recognition of his humanitarian deeds and popularity and in 1966, living in Paris, was named honorary director of the Conservatory of Music in Mexico City. He came back to Mexico twice a year and travelled worldwide as Mexico's official Cultural Ambassador, a designation of which he was immensely proud. On an engagement in Toronto he visited the Classical Record Shop where we were informed by the record company's PR person who accompanied him that he wished to be addressed as "Mister Ambassador." He spent his last five years in Monaco and died in 1988 in Kassel, Germany.
Szeryng's technique and intonation were impeccable and beyond criticism. His radiant performances were not to be recognized by any identifiable mannerisms. Itzhak Perlman is quoted as stating that "if you hear such a performance and cannot identify the artist, then it is Szeryng." Here are 12 perfect examples of performances as so described by Perlman: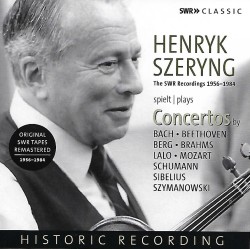 Henryk Szeryng – The SWR Recordings 1956-1984 (SWR>>CLASSIC SWR19092CD naxosdirect.com/search/swr19092cd) features 12 concertos with Szeryng and the SWR symphony orchestras for a five-CD set of exemplary performances with various notable conductors. There are two concertos by Bach, BWV1041 and 1042; three by Mozart K216, 219 and 271; also those by Beethoven, Schumann, Lalo (Symphonie espagnole), Brahms, Sibelius, Berg and Szymanowski (No.2 Op.61). From the liner notes: "The recordings were supposed to make the performances sound as concertante as possible without the performers letting themselves get carried away with too much scrupulous attention to detail." Szeryng made himself perfectly clear: "A work should not be split into countless pieces. If I didn't like a passage, I prefer to repeat the whole movement because recording bit by bit completely destroys the inner suspense." Each of these 12 performances is a perfect example of these ideals.
Their original SWR tapes have been remastered for this perfectly balanced, most attractive collection.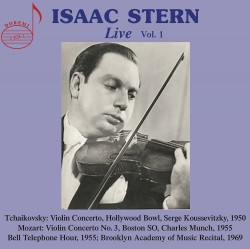 We leave 2020 and the celebrations of Isaac Stern's 100th anniversary so well documented by Sony with the 75-CD boxed presentation of their complete catalogue of Stern's commercially recorded performances. To complement that collection, Doremi has researched and prepared an edition Isaac Stern Live of six 2CD sets of live performances, none of which has been released in any form. There are rare archival items performed with orchestras and conductors with whom he did not record. Also works he did not record. Conductors with whom he was not commercially associated include Serge Koussevitzky, Charles Munch, Lorin Maazel, Bernard Haitink, Erich Leinsdorf, Raphael Kubelik, Josef Krips and Evgeny Svetlanov. Also, with Leonard Bernstein as pianist.
The first album includes the Tchaikovsky concerto with Koussevitzky and the Hollywood Bowl Orchestra with the 30-year-old Stern, followed by the Mozart Concerto No.3 with Charles Munch and the Boston Symphony from 1955. Then, from The Bell Telephone Hour on December 5, 1955 conducted by, of course, Donald Voorhees, Pugnani's Largo and Sarasate's Caprice Basque, Op.24. Then, on to the Brooklyn Academy of Music on January 22, 1969 with his permanent accompanist, Alexander Zakin, playing the Devil's Trill sonata by Tartini/Kreisler, a sonata each by Beethoven and Prokofiev, then Four Romantic Pieces by Dvořák, Suk's Burlesque and finally Mozart's Rondo in C Major, K373. Before this review becomes a tiring list of repertoire let's just mention that Volume Two includes Mozart's Violin and Piano Sonata K305 with Leonard Bernstein and Volume Three opens with the Schubert Trio No.1, Op.99 played by Stern, Paul Tortelier and Artur Rubinstein from the Israel Summer Festival of 1967, followed by four heavy-duty concertos from Moscow and Carnegie Hall. These three volumes are available now, with three more to come in the new year. (Doremi DHR 8116/7, DHR 8128/9, DHR 8181/2 naxosdirect.com/search/dhr-8116-7)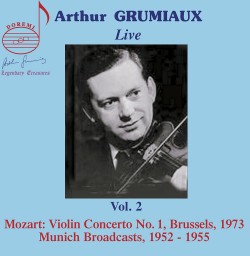 During the 1950s through the 1980s, Belgian violinist Arthur Grumiaux (1921-1986) was one of the artists most highly esteemed by his fellows and popular with classical record buyers. His was a pure classical style, aristocratic, with perfect execution and exquisite taste. He recorded, as most readers know, for Philips and his discs are still in demand, as attested to by the listings in Amazon and others. Volume 2 of Arthur Grumiaux Live from Doremi (DHR8080 naxosdirect.com/search/dhr-8080) contains four exceptional broadcast performances. From Brussels, Mozart Violin Concerto No.1 K207, with the Chamber Orchestra of Belgian Radio conducted by Edgar Doneux (1973). Then three violin and piano sonatas from Munich with accompanist Hans Altmann: from May 11, 1955, Mozart's Sonata in A Major K526; from October 2, 1954 Beethoven's Sonata No.10 in G Major, Op.96; and finally Brahms' Sonata in A Major Op.100 from September 14, 1952. Listening to this disc as I write, in fact to all the above, it is very satisfying to hear the artistry of these musicians of a generation-or-two ago, for whom getting the notes right was only just the beginning. I should add that it was said of some great instrumentalists of the past that their occasional wrong notes were better than a lesser player's right ones. Alfred Cortot and Vladimir de Pachmann come to mind who, of course, also recorded before editing was possible.
Karajan Spectacular is from IDIS, an Italian company that is working on a series of Karajan reissues. I was unaware of these until we were sent Volume 6 (IDIS6741 naxosdirect.com/search/idis6741). On this disc Beethoven's Egmont and Coriolan Overtures are played by the Philharmonia Orchestra recorded in Kingsway Hall in 1953. Also Wagner, played by the Berlin Philharmonic in 1957 and 1960 including the overtures to Der Fliegende Holländer and Tannhäuser, Lohengrin Prelude to Act 1 and Tristan und Isolde Prelude and Liebestod. To make a comparison I listened to the Philharmonia entries on EMI CDs. Particularly good sound, typical of EMI's best. Then a shock! The IDIS sound is wider, deeper, with more body and certainly more involving. The Philharmonia was a magnificent orchestra and Karajan was at home with them. Same improvement for the Wagner. A recommendation for anyone interested in this repertoire.