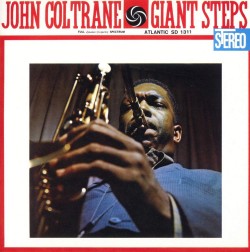 Giant Steps – 60th Anniversary Edition
John Coltrane
Rhino-Warner Records/Atlantic SD 1311 (amazon.ca/Giant-Steps-60th-Anniversary-Coltrane/dp/B0864JZ9ZL)
Few jazz recordings have the historical significance of Coltrane's Giant Steps, taking the tenor saxophonist from brilliant sideman to major figure. Recorded within weeks of Miles Davis' 1959 classic Kind of Blue, to which Coltrane also contributed, Giant Steps was a different vision, its complex harmony a contrast to Davis' spacious modality. If Kind of Blue signified sculptural perfection, Giant Steps, its title track still a jazz test piece, signalled hard work, running unfamiliar chord patterns – "Coltrane Changes" – at high velocity. The finished LP took three groups and multiple sessions to achieve the initial release.
This commemorative two-CD (or two-LP) set presents snapshots of the record's history. The first CD presents the original LP in all its glory. Including the flying Countdown, the modal Cousin Mary, the shimmering, bittersweet Naima, it's a work of many moods and genuine mastery.
The second disc, with eight rejected versions of key songs, demonstrates the many paths Coltrane could wend through material that stymied his sidemen. Only bassist Paul Chambers appeared consistently. An initial session with pianist Cedar Walton didn't appear at all on the original disc, while pianist Tommy Flanagan and drummer Art Taylor required two sessions to record six of the original tracks. A satisfactory Naima was captured seven months later with pianist Wynton Kelly and Jimmy Cobb in a session for a different LP.
Completists will want the Heavyweight Champion, the seven-CD set released in 1995, with nine false starts and alternates for Giant Steps alone, but for most, this set will suffice; a singular step in a great musician's path.