During 2020, the classical music world celebrates, or at least recognizes, the 100th anniversary of the Salzburg Festival. Each year, for five weeks beginning in late July, Salzburg is teeming with all things Mozart, who was born there on January 27, 1756. It is a joyous time of music and theatre with a special focus on opera.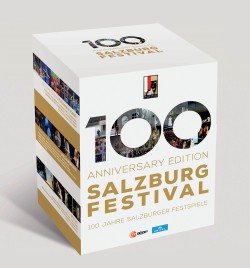 Over the years Unitel, in cooperation with Austrian Broadcasting, preserved these operas and has selected ten titles to issue in DVD and high-definition Blu-ray video discs in an Anniversary Edition boxed set, Salzburg Festival 100 (Cmajor 755704 naxosdirect.com/search/755704). Here are the operas, year, set designer, conductor, orchestra and leading voices: Verdi Otello (2008) [George Souglides] Riccardo Muti, Vienna Philharmonic Orchestra, Aleksandrs Antoņenko, Marina Poplavskaya, Carlos Álvarez; Handel Theodora (2009) [Annette Kurz] Ivor Bolton, Freiburger Barockorchester, Christine Schäfer; Janáček The Makropulos Affair (2011) [Anna Viebrock] Esa-Pekka Salonen, VPO, Angela Denoke; Schubert Fierrabras (2014) [Ferdinand Wogerbauer] Ingo Metzmacher, VPO, Michael Schade; Strauss Der Rosenkavalier (2014) [Hans Schavernoch] Frans Welser-Möst, VPO, Krassimira Stoyanova; Strauss Salome (2018) [Romeo Castellucci] Welser-Möst, VPO, Asmik Grigorian; Rossini L'Italiana in Algeri (2018) [Christian Fenouliiat] Jean-Christophe Spinosi, Ensemble Matheus, Cecilia Bartoli; Mozart Die Zauberflöte (2018) [Katharina Schlipf] Constantinos Carydis, VPO, Matthias Goerne; Tchaikovsky Pique Dame (2018) [Christian Schmidt] Mariss Jansons, VPO, Brandon Jovanovich; Verdi Simon Boccanegra (2019) [Harald B. Thor] Valery Gergiev, VPO, Luca Salsi.
I wonder how these ten performances were selected from what must have been quite an assortment of available choices. Most probably these were acclaimed productions that deserve the opera lover's attention. As such, here is an esoteric collection that, from those I have watched, fills that bill.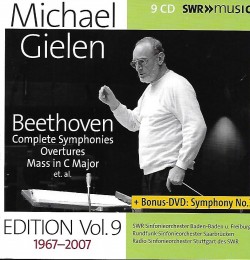 The latest edition, at this writing, of the Michael Gielen Edition is Volume 9, the Beethoven Complete Symphonies, Overtures and Mass in C Major (SWR19090, nine CDs and one DVD naxosdirect.com/search/swr19090). For those who are unfamiliar with Michael Gielen, he was a German-Argentinian conductor and composer who studied piano, composition and philosophy in Buenos Aires. He performed Schoenberg's complete piano works there, and was also coach and assistant conductor of the Teatro Colón. He joined the Vienna State Opera in 1951 and was permanent conductor there from 1954 to 1960. He was also assistant and répétiteur for conductors such as Karl Böhm, Clemens Krauss and Herbert von Karajan. No better way to immerse in the classics than rehearsals and performances. From 1960 he was the first conductor of the Royal Swedish Opera, Stockholm. Gielen was principal conductor of the National Orchestra in Belgium from 1968 to 1973 and of the Dutch Opera in Amsterdam from 1973 to 1976. He later conducted the West German Radio Orchestra in Cologne and from 1977 to 1987 was general music director of Oper Frankfurt. Concurrently from 1980 to 1986 he was music director of the Cincinnati Symphony and from 1986 to 1999 principal conductor of the of the SWR Orchestra of Baden-Baden and Freiburg.
In Europe, Gielen was the most radical innovator of Beethoven's music. He conducted the first live performance in Germany of the Eroica based on Beethoven's tempo markings, in Frankfurt in October 1970. That performance is to be heard on the sixth CD in this set.
Outside the opera house he conducted contemporary music. He was a performer and promoter of works embracing the Second or New Viennese School, having premiered several works in the new tradition of Ligeti, Stockhausen, Zimmermann et al. His own works were premiered by respected soloists and ensembles of the day.
Along with his involvement with the New Viennese School, throughout his career he paid particular attention to the First Viennese School of Haydn, Mozart and Beethoven. His first recordings of Beethoven were Symphonies Two, Seven and Eight which had been allocated to him as part of a complete Beethoven Symphonies edition with various conductors, made for Vox and later available on Audio Fidelity. The orchestra, incidentally, was composed of members of the Vienna Volksoper, identified on the label as the Wiener Staatsopern-Orchester.
Now, back to 1980 in Cincinnati where Vox made a widely discussed recording. During October of Gielen's first year there, he recorded Beethoven's Third Symphony, observing the composer's prescribed tempos and markings in all four movements, particularly effective in the first, previously ignored by traditional conductors. Those were the days when it was claimed that Beethoven's metronome was defective, only to be countered by the growing number of groups observing original performance practices. This collection offers the listener three performances of the Eroica. The 1970 from Frankfurt mentioned above, the celebrated 1980 from Cincinnati and another from the Festspeilhaus, Baden-Baden in February 2000 that is also to be seen on the enclosed DVD. Of the three I am attracted to the 2000 performance because of the distinct feeling that everyone in the orchestra, as a group and individually, is very happy to be there playing this music. That stood out to me on the first hearing and has not lessened in subsequent listenings.
Along with the symphonies, Gielen offers these overtures: Egmont; Consecration of the House and two from Fidelio. Also, Gielen's orchestration of the Grosse Fuge, and the Mass in C Major, Op.86 for soloists, choir and orchestra. There are many exciting differences from the accepted practice here. For instance, the first movement of the Fifth Symphony is not a proclamation of defiance or victory, but simply Allegro con brio. We hear with new and different ears throughout. In every respect, the SWR orchestra plays with effortless virtuosity. Note that these are modern instruments and not original instrument performances. The sound is uniformly ultra-realistic and articulate wherein the various instruments are clearly located.
This could be the first choice for anyone thinking about a Beethoven set updated from the same-old, same-old weighty, routine editions.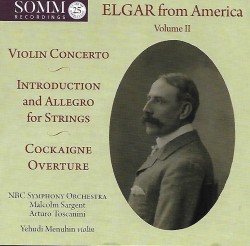 SOMM has issued Volume II of Elgar from America containing three archive performances of his music played by the NBC Symphony Orchestra (Ariadne 5008 naxosdirect.com/search/ariadne+5008). On this disc we are treated to three favourites, all from Studio 8H in New York's Rockefeller Center, now the home of SNL. In 1945, Arturo Toscanini, conductor of the NBCSO, had invited Malcolm Sargent to conduct four concerts of English music. On February 18, 1945 Sargent conducted the Cockaigne Overture (In London Town) Op.40. One week later, Yehudi Menuhin joined Sargent for the Violin Concerto in B Minor Op.61. The Introduction and Allegro for Strings Op.47 had been in Toscanini's repertoire since 1911 when he prepared the orchestra there for Elgar's impending arrival. This is the third work on this disc in a hugely impressive Elgarian performance from April 20, 1940. Toscanini evinces a rounder sound, more akin to a British orchestra than Sargent does in the overture and the concerto, but both performances are most enjoyable and Menuhin is inspired.
The restoration, from available sources, is produced by Lani Spahr, who was responsible for earlier discs devoted to historic Elgar performances.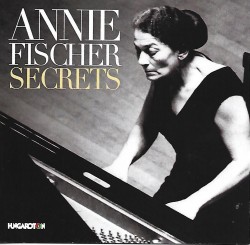 Annie Fischer was a Hungarian pianist who was born in Budapest in 1914 and rose to become a much-admired artist for her freedom of expression over half a century. But she is not so known nor appreciated here, although she had a loyal following in the Classical Record Shop where news of a new Fischer disc spread… albeit mostly to Hungarians. She died in Budapest in 1995. Annie Fischer SECRETS (Hungaroton HCD 32845-46, 2CDs, naxosdirect.com/search/5991813284525) features two of her beloved composers, with Schubert Sonatas D845 and D959, and Schumann's Fantasiestücke Op.12 and Kreisleriana Op.16. As a little encore, Chopin's Nocturne in C-sharp Minor, Op.27 No.1. The "secret" of these recordings is quite fascinating but too long for here. You'll just have to check it out for yourself. You'll find it well worth the effort!