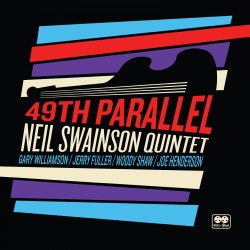 49th Parallel
Neil Swainson Quintet
Reel to Real RTRCD004 (cellarlive.com/collections/all)
Bassist Neil Swainson has been a significant figure in Toronto jazz for over 40 years. During that time, he has released one recording under his own name, 49th Parallel, in 1988. The style is mid-60s Blue Note post-bop, announced immediately in a frontline made up of two of the style's stars, tenor saxophonist Joe Henderson and trumpeter Woody Shaw, musicians with few peers even in New York. Swainson had toured with Shaw and appeared on two of his recordings, a source for the empathy evident here. Two Toronto musicians deserving of much wider recognition, pianist Gary Williamson and drummer Jerry Fuller, make up the rest of the band.
Swainson crafted most of the compositions, solid idiomatic material that catches fire in the hands of this short-lived band. The session gives the Canadian contingent rare opportunities to shine at the highest levels. Swainson, as leader, gets to solo out of customary order, sometimes coming to the fore as first or second soloist, highlighting his inventive, articulate playing rather than leaving it a closing afterthought. Williamson was a fine soloist, and he also had a gift for multi-dimensional support. Port of Spain, a lyrical feature for Shaw, finds Williamson still adding energetic, expansive detail to the trumpeter's final theme statement. Fuller gives and takes inspiration with Henderson, fuelling the saxophonist's kinetic, bouncing lines on Southern Exposure.
This is a distinguished session, one that definitely merits its reissue on both CD and LP.