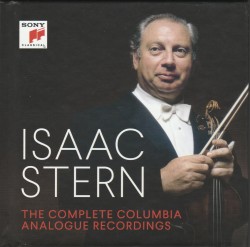 The late Isaac Stern exhibited the highest level of musical taste and a charisma on stage, qualities that uniquely come through in his recordings, particularly those from his early years. The young Stern was a highly first-class violinist and virtually one of the best in history. He had a lush, beautiful incandescent sound, perfect intensity and power. He concentrated on music for its own sake and generally did not present fireworks displays although he was perfectly capable of doing so. On Isaac Stern – The Complete Columbia Analogue Recordings we find him featured more in the repertoire of the likes of Mozart, Schubert and Brahms. He was also deeply involved in chamber music which was a big part of his activities. As a young man he was one of the busiest musicians anywhere and was in high demand as a guest artist by the likes of the New York Philharmonic, the Philadelphia Orchestra and the Boston Symphony, and distinguished conductors such as Bruno Walter. He was also to be heard in chamber music festivals including the now legendary Casals Festival in Prades. Stern regularly appeared with the most respected musicians such as Dame Myra Hess, William Primrose and David Oistrakh. His early (November 1951) recordings with Sir Thomas Beecham and the Royal Philharmonic playing the Brahms and Sibelius Violin Concertos remain the most impressive performances compared with anyone else, even his own later recordings of these works. His programs were the epitome of serious musical thinking and were influential on violinists who followed. As an example, programs by such artists such as Kreisler, Elman and even Heifetz could include concertos in which the orchestral part was played by the accompanying piano. This convention was eliminated in Stern's recitals, setting an example, and today it is gone.
Stern was born in Kremenets, Ukraine in 1920 and was brought to San Francisco as an infant. His mother was a singer and he began musical studies at home. He studied violin with Naoum Binder and Louis Persinger, making his debut at the age of 11 with the San Francisco Symphony. His New York debut was on October 11, 1937. His tour of Russia in 1956 was a triumph. There was a story going around many decades ago that I first heard in Australia. It concerns a group of young string players in San Francisco playing for pleasure in their home. A passerby who turned out to be Isaac Stern, heard them and asked if he might join them. He did. True or apocryphal, it is a nice story.
As a centenary tribute, Sony has issued Stern's analogue recordings in a 75-CD set containing all those wonderful Columbia mono and stereo riches, carefully and knowingly prepared from the original sessions. Checking the dates on the genesis of each disc, Stern's first recording was on April 26/30, 1945 in Columbia's New York studios playing Beethoven's Violin Sonata No.7 in C Minor, Op. 30 No.2. The pianist was Alexander Zakin, Stern's accompanist from 1940 to 1977. On the same disc is Mozart's Violin Concerto in G Major, K216 recorded with Stern also conducting a chamber orchestra on March 28, 1950. This is the most musically exquisite performance one could ever hope to hear.
These are all irreplaceable performances from his vast recorded repertoire of the most beloved concertos, sonatas, melodies et al., and here are just a few reminders: five CDs from the Casals Festival at Prades featuring, in various combinations, Dame Myra Hess, Alexander Schneider, Paul Tortelier, Milton Thomas, John Wummer, Eugene Istomin, Milton Katims and Madeline Foley. Lalo's five-movement Symphonie Espagnole in D Minor is conducted by Eugene Ormandy coupled with the Max Bruch Concerto No.1. There are Prokofiev's First and Second Violin Concertos conducted by Leonard Bernstein, and the Brahms Double Concerto with Leonard Rose, Bruno Walter conducting the Philharmonic Symphony Orchestra of New York before they became the New York Philharmonic.
So well-remembered is the trio of Isaac Stern, Leonard Rose and Eugene Istomin who recorded the complete Beethoven trios between 1965 and 1970 and the complete Brahms trios in 1964-70. Here they all are in pristine sound. Also the Stravinsky Violin Concerto with the composer conducting, from 1961. Even in this syncopated, jaunty piece the signature Stern sound beams. Add the "Concert of the Century" in Carnegie Hall on May 18, 1976 featuring Bernstein and the NY Philharmonic, Rostropovich, Horowitz, Fischer-Dieskau and the Oratorio Society of New York.
Many music lovers of a certain age may not remember the first time they heard Stern. Perhaps it was in a movie theatre in 1946 watching Humoresque as the driven violinist John Garfield and Joan Crawford play out their tragic love story. Audiences were treated to several repertory pieces woven into the plot. Stern recorded all the performances in addition to filming close-ups of the fingering and bowing from all angles which were edited into the film. Moving on… In 1960 Stern was a leader in the successful drive to save Carnegie Hall when the famous NYC institution was threatened by demolition. He then served as president of the hall's new governing body at that time.
Isaac Stern: The Complete Columbia Analogue Recordings (Sony Classical 972425 isaacsternlegacy.org), comprise 75 CDs with each recording in a replica of its original jacket, in a sturdy box with a 214-page hardcover book that includes a biography and details of each recording and an index by composer. A set to be treasured!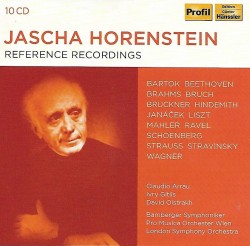 Profil has issued a ten-CD set of notable performances conducted by Jascha Horenstein, Jascha Horenstein Reference Recordings (Profil Edition Hänssler PH19014 naxosdirect.com). Horenstein was born in Kiev in 1898 and died in London in 1973. His family moved to Vienna in 1911 and in 1916 he was studying at the Vienna Academy of Music, including composition with Franz Schreker. In 1920 he went to Berlin and became an assistant to Wilhelm Furtwängler. In the 1920s he conducted the Vienna Symphony and the Berlin Philharmonic. He became music director of the Düsseldorf Opera in 1929, getting out in 1933 ahead of the Nazis. He moved around, travelling as far as Australia before settling in New York in 1939. In 1947, he returned to Europe and conducted in Paris, Vienna, Bamberg and also Baden-Baden, the home of the Sudwestfunk Broadcasting Company whose SWF Symphony Orchestra was second to none. In his last years he was conductor of the LSO.
Perhaps because he was not connected to any one orchestra, the major record companies effectively had no interest in preserving his performances or they would have done so. In the 1960s and 1970s many avid in-the-know music lovers and collectors relied upon smaller independent companies to deliver Horenstein recordings. Vox issued a few, as did Unicorn, Music and Arts, and Koch, and the BBC issued some of their own. For this edition, Profil has selected 22 first-class Horenstein recordings.
Outstanding performances include Liszt's A Faust Symphony with the choral ending; also Wagner's A Faust Overture both from the SWF orchestra and chorus. Other highlights include the Eroica with the Vienna Pro Musica and an extraordinarily powerful Death and Transfiguration with the Bamberg SO. No less impressive are the Mahler First and Third Symphonies and Kindertotenlieder (Heinrich Rehkemper) and the Bruckner Eighth. A list of the works would be too long but here are the composers: Bruckner, Mahler, Hindemith, Schoenberg, Stravinsky, Ravel, Bartók, Janáček, Wagner, Brahms, Liszt, Beethoven and Richard Strauss. Orchestras are the LSO; Pro Musica, Wein; SWR Symphony, Baden-Baden; Colonne Concerts Orchestra, Paris; Orchestre Radio Symphonique, Paris; the Berlin State Opera Orchestra; the ORTF and the Bamberg Symphony. Soloists are Claudio Arrau, David Oistrakh, Vlado Perlmutter and Ivry Gitlis.
Horenstein conducted every work as if it were the most interesting and important composition ever before him. He demonstrated a concentration and focus that breathed new life and dimension into the most familiar works. The tuttis are organic. His commanding performances are persuasive and consistently engaging.