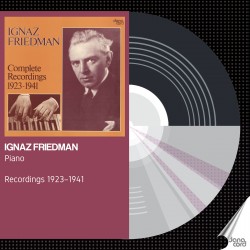 Ignaz Friedman Complete Recordings (1923-1941)
Ignaz Friedman
Danacord DACOCD861-864 (naxosdirect.com/items/ignaz-friedman-complete-recordings-1923-1941-532264)
Ignaz Friedman was born in Podgórze, near Kraków in 1882. His prodigious abilities were apparent and he studied with Hugo Riemann in Leipzig. He entered the class of the renowned pedagogue, Theodore Leschetizky in Vienna. "Under Leschetizky he developed a technique surpassing all others and in 1904 made his concert debut that became the stuff of legends." In 1914 he settled in Berlin where there is a plaque in Pariser Strasse that commemorates his stay in the city. He toured in Europe and America until 1914 when the outbreak of war found him touring in Australia where he remained, enjoying a successful career, there and in New Zealand, as a teacher and performer. He was married to a Russian Countess, Manya Schidlowsky, a relative of Tolstoy. Friedman was deservedly acknowledged by critics including Harold C. Schonberg and colleagues, Sergei Rachmaninoff and others, as pianist-among-pianists. He died on Australia Day, January 28, 1948. Friedman was an editor and a composer with several of his compositions heard here meticulously restored, as are all entries in the set Ignaz Friedman Complete Recordings from the LP years, 1923-1941 (six cds for the price of three).
When I was quite young, the usual, most-expressed evaluation of a neighbours' child playing our piano was he or she "has a nice touch." Those two words seemed to cover the situation quite nicely and pleased the proud parent. Back to the present. In these recordings, in gentle passages, there is often the illusion that Friedman is able play the notes without striking the keys. Now, that is a "nice touch." This is not to say that this quality is omnipresent but it is there often enough across the 87 tracks on the six discs. Included are works by Scarlatti, Mozart, Widor, Beethoven (Moonlight Sonata) Schubert, and lots of Chopin (Mazurkas. Waltzes, Polonaises, etc.), for which he was renowned. Also Mendelssohn (Songs without Words), Gluck, Brahms, Hummel, Paganini, Liszt, Dvořák, Grieg, Rubinstein, Moszkowski, Paderewski, Suk, Mittler, and, of course, Ignaz Friedman. Bronislaw Huberman is heard in the Kreutzer Sonata.
I put disc one in the player with but a cursory look at the contents and was so enamored that I soon had no inclination to do anything else but sit back and enjoy disc two…