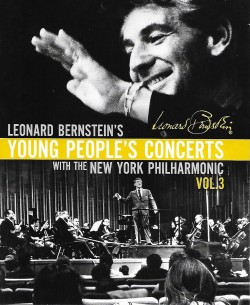 A few months ago, I drew the reader's attention to Volume Two of Leonard Bernstein's Young People's Concerts, recorded during the late 1960s. Volume Three is now available, again on four Blu-ray video discs (Unitel 800704 naxosdirect.com).
As to be expected, Bernstein is again both entertaining and informative as he outlines musical forms and terms to his young audience. An inside view into each work is followed by the performance with the New York Philharmonic. Volume Three includes 18 episodes – the Concerts Nos. 29-43 plus Young Performers Nos. 7-9 (featuring Edo de Waart, Horacio Gutiérrez and Young Uck Kim). The repertoire is surprisingly broad including works rarely presented to such a young audience.
"The Road to Paris" includes Gershwin's An American in Paris, Bloch's Schelomo with cellist Zara Nelsova plus dances from De Falla's Three-Cornered Hat. "The Sound of a Hall" lays out the daunting tasks faced by the acoustician in the new Philharmonic Hall in Lincoln Center. Works are Berlioz's Roman Carnival Overture, shorter pieces by Copland and Tchaikovsky's 1812 Overture with a riotous outing for the many percussionists. In "A tribute to Teachers," Bernstein conducts works by his teachers, Randall Thompson and Walter Piston and honors Fritz Reiner in a stunningly exuberant version of Brahms' Academic Festival Overture. "The Genius of Paul Hindemith" features excerpts from a dozen of his works together with a most persuasive, lengthy appreciation of Hindemith's music. In "Farewell to Nationalism," Bernstein demonstrates to his audience that a composer's country of origin is not necessarily reflected in his or her compositions.
In "Charles Ives: American Pioneer," Bernstein discusses and performs the music of Charles Edward Ives, "the first great American composer." In "Forever Beethoven," the master is profiled and his works are performed and discussed. "Fantastic Variations" is a full program devoted to Richard Strauss' Don Quixote. This is Bernstein's very detailed exploration of how Strauss depicts the self-styled Knight Errant's various delusional encounters, his final return to reality and peaceful last breath. In "Bach Transmogrified," Bernstein discusses the many different transmogrifications of the "Little" Fugue in G Minor BWV578 for organ. After hearing the original, the first iteration is the celebrated transcription for orchestra by Leopold Stokowski, who was on hand to conduct the orchestra. Next, the audience watched a Moog synthesizer rolled across the stage and listened to that version. Then came the Lukas Foss transformation of the little Bach piece.
The third Blu-ray disc contains "The Anatomy of a Symphony Orchestra," in which Bernstein draws the audience's attention to the sections of the orchestra, strings, winds, brass and percussion. He puts it all together in a complete performance of Respighi's The Pines of Rome with a roof-raising finale, as the tread of the unstoppable Roman legions gets closer and closer through The Pines of the Appian Way. In sharp contrast is "A Copland Celebration," featuring the Clarinet Concerto and closing with a ballet suite from Billy the Kid. In "Thus Spake Richard Strauss," Bernstein examines Strauss' musical interpretation of Nietzsche's writings. Interesting. "Liszt and the Devil" examines A Faust Symphony, a work in three movements, Faust, Gretchen and Mephistopheles. Liszt's symphony was deservedly a favourite of Bernstein who had recorded it in New York in 1960 and would so again with the Boston Symphony in 1976. Here he was happy to explain all about the Faustian subject and Liszt. Fascinating insights into both composer and compositions. "Holst: The Planets" (minus Saturn and Neptune), is the last work in this collection of annotated concerts for a young audience.
Bernstein had loads of charisma and he was certainly the right person, arguably the only person, for these events, to the extent that still today, half a century later, he can hold the viewer's undivided attention. Lenny never spoke condescendingly to his young audience, always treating them with respect.
Each Blu-ray disc, except for the fourth, holds five concerts and plays for over four hours. The fourth contains young, some very young, performers as soloists playing with the orchestra. The set, which feels as fresh today as when the concerts took place, is also available on seven DVDs.