One of the treasures of recorded music is Mahler's Das Lied von der Erde recorded over three days in May 1952, in Vienna. The Vienna Philharmonic was conducted by Bruno Walter and soloists were Kathleen Ferrier and Julius Patzak. That Decca recording has never been out of print. Back in 1947-48 Walter wanted to conduct a festival performance of Das Lied and had searched in vain for a contralto who could live up to the demands of this remarkable work. "I was told of a young English singer who made quite a great impression on all those who heard her… and she came and sang for me and she began to sing the Sapphic Ode of Brahms and I said, 'You are engaged.' Because it was of such rare beauty, beauty of expression, beauty of voice and purity and beauty of personality. It was one of my greatest impressions in my life. Since then we became very great friends and she sang this work with me. I engaged her to sing with me in New York. She sang Lied von der Erde in New York." He goes on to speak about making the 1952 recording, "It was unforgettable how this very beautiful girl stood at my side already in the throes of the most terrible disease. And it was the last time I saw her." Kathleen Ferrier succumbed in 1953.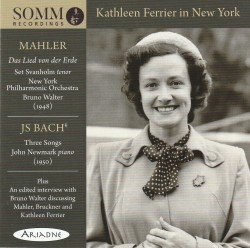 The British label SOMM, in their continuing Kathleen Ferrier series, has issued the recording of the actual New York Philharmonic's inspired performance of Das Lied with Walter and Ferrier, January 18, 1948, Kathleen Ferrier in New York (SOMM Ariadne 5007 naxosdirect.com). The tenor is Set Svanholm whose prophetic Das Trinklied sets the stage for the kinetic performance to follow. And here is the pristine voice of Ferrier confirming to those in Carnegie Hall and the radio listeners that Walter had not exaggerated one little bit. The CD also has an informative 1956 interview by Arnold Michaelis with Walter, excerpted above, in which he talks about Ferrier, his close friend Gustav Mahler and Bruckner. The sound has remarkable presence and is not an aircheck but an in situ recording by the Carnegie Recording Company. Some unobtrusive, slight surface noise occasionally, but the balances are perfect.
After Der Abschied (Farewell), SOMM adds three short, gentle Bach settings of love songs from a recital in Town Hall, New York on January 8, 1950. Vergiss mein nicht (Do not forget me) BWV505; Ach, dass nicht die letzte Stunde (Ah! Why has not the final hour) BWV439; and Bist du bei mir (If thou art near) BWV508. Perfect choices. Her accompanist is pianist and friend John Newmark.
This is a unique document, earning a place in every collection.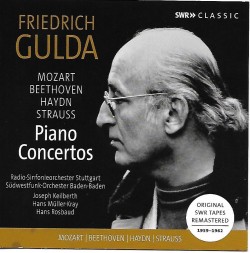 Pianist Friedrich Gulda is certainly not a household name today but from the 1960s on he was indeed recognized by classical LP collectors as a master, and by thinking jazz fans as a progressive jazz innovator. He toured worldwide, including appearances with the polished SWR Radio Symphony Orchestras of Stuttgart and Baden-Baden. The SWR recorded all the performances that they presented and their CDs reflect care and expertise in documenting these concerts. Their latest release is a three-disc set of concertos by Mozart, Beethoven, Haydn and Richard Strauss (SWR Classic SWR19088CD naxosdirect.com). Here they are all recorded between 1959 and 1962 with their conductors: Mozart No.14 in E-flat Major K449 and No.23 in A Major K448, Hans Rosbaud; No.24 in C Minor K491, Joseph Keilberth; Beethoven No.4 in G Major Op.58, and Haydn No.11 in G Major XVIII:11, Hans Muller-Kray; Strauss Burleske in D Minor, Muller-Kray, with a solo encore, Zugabe; and finally Debussy's solo piano Feux d'artifice.
All these were recorded before appreciative audiences, resulting in personal performances closer to the heart and different from playing to microphones. This is perhaps not always the case, but certainly is so in the music-making on these three discs. The kind of music-making that has you hanging on every note. There is the age-old question of who is in charge in a concerto, the conductor or the soloist? Here we have three different conductors each tuned to this articulate pianist.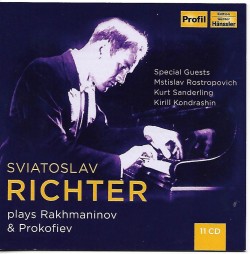 The 1960s was the era during which many prodigiously talented USSR instrumental virtuosi were at last permitted by their government to concertize in the West. None elicited more universal excitement than Sviatoslav Richter who possessed a seemingly limitless technique, equally at home in Beethoven and the German Romantic composers, the French Impressionists and, of course, contemporary Russian composers. He is now recognized as one of the greatest pianists of the 20th century. He made his American debut in Chicago on October 15, 1960, gave a series of concerts in New York that season and appeared as soloist with the New York Philharmonic. To hand is an 11CD set Sviatoslav Richter plays Rakhmaninov & Prokofiev (Profil PH19052 naxosdirect.com).
Many of these recordings pre-date his American debut. There are two versions of the Rachmaninov First Piano Concerto: the version from March 9, 1949 is conducted by Oleg Azarov followed by a performance from February 18, 1955 under Kurt Sanderling. The second concerto also has two performances: live under Agarkov on May 19, 1948 and with Sanderling on February 6, 1959. He also plays eight of the Etudes-Tableaux from Opp.33 and 39. The "bonus" on this disc is two songs sung by soprano Nina Dorliac, Richter's lifelong partner. Rounding out the Rachmaninov entries are some preludes. Richter had put together a suite of 12 preludes heard live, also another of six preludes.
There are so many works of Prokofiev on the seven remaining discs! The First Piano Concerto with Kondrashin and the Moscow Youth Symphony Orchestra in 1952, followed by two performances of the Fifth: with Kondrashin and the Moscow Philharmonic on April 24, 1961; and a real gem, a previously unreleased concert recording with the Philadelphia Orchestra and Eugene Ormandy in Leningrad from June 14, 1958. Another interesting entry is the recording of the world premiere performance of Prokofiev's Symphony-Concerto for Cello and Orchestra in E Minor, Op.125. The dedicatee, Mstislav Rostropovich, is the soloist, and the conductor is Sviatoslav Richter. There are seven piano sonata performances, 11 Vision Fugitives, Op.22; piano transcriptions from the ballet Cinderella; the second and third cello sonatas, two performances of the Suggestion diabolique No.4, Op.4, and eight songs sung by Nina Dorliac.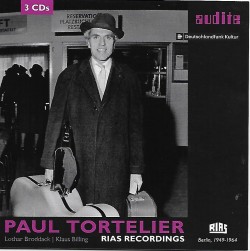 Paul Tortelier was a French cellist born Paris in 1914. He won First Prize in cello at the Paris Conservatoire at 16. He became principal cellist of the Boston Symphony in 1935 returning to France in 1939. He settled in Israel in 1955, travelling to Europe for concerts. He recorded major concerted works for EMI and was also a member of the Casals Festival in Prades with Casals, Stern, Istomin, Menuhin and the rest. He died in 1990.
A three-CD set Paul Tortelier – The RIAS Recordings (Audite 21.455 naxosdirect.com) is devoted to cello sonatas recorded by the Radio in the American Sector in 1949, 1962 and 1964 and are released here for the first time. These are superlative performances that from the first bar of the Beethoven Sonata No.5 leave no doubt that these musicians love what they are doing. The accompanist, or rather partner, is Lothar Broddack with whom he collaborates in the Mendelssohn No.2; Fauré No.2 and Papillon; Paganini Introduction and Variations on Dal tuo stellate soglio from Moses in Egypt; and Casella's Sonata No.2. Pianist Klaus Billing replaces Broddack for Brahms Sonata No.1, Schumann's Fantasiestücke Op.73 and Tortelier's own Trois p'tits tours. He needs no accompanist for the Kódaly Sonata Op.8. These are immaculate recordings of wonderful performances.