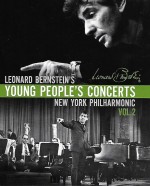 How fondly remembered are Leonard Bernstein's Young People's Concerts with the New York Philharmonic as seen on CBS Sunday afternoons from 1958 to 1972 and held in the new Philharmonic Hall, Lincoln Center. Years later the videos were first issued by Sony on VHS but those are long gone. We now have some of them on a four Blu-ray video disc set from Cmajor as Volume Two of these concerts (Unitel Edition 800504 naxosdirect.com).
For these readers who may not be aware of these still-memorable concerts, the intention was to introduce younger people, and anyone else, and help them appreciate and hopefully understand classical music, new and old. Bernstein explained in easily understood language, with examples conducting the orchestra, what the music is all about and what the composer intended. Bernstein himself wrote all his scripts, over which he devoted enormous time and care. What we see and hear appears completely spontaneous, sharing information and never talking down to his audience.
In this collection there are 14 programs on subjects of interest upon which he elaborates and illustrates, each of which turn out to hold our attention even when presenting familiar works. For instance, Two Ballet Birds, aired on September 14, 1969, tells us that there are basically two kinds of ballet, one that tells a story and the other which does not. Les Sylphides is a perfect example of the latter. Bernstein illustrates a combination of both with music from Tchaikovsky's Swan Lake. All very beautiful Romantic music, but with an abundance of simply abstract dancing for our pleasure, choreographed to show what the dancers can do and not to advance the story. On the other hand, in Stravinsky's thrilling ballet, The Firebird, what is unfolding on the stage is precisely described and reinforced by the orchestra in the pit. Bernstein treats the audience in the hall with Stravinsky's own suite from the ballet.
The set includes a tribute to Shostakovich on the great composer's 60th birthday, January 5, 1966, including a very interesting analysis and complete performance of the compact Symphony No.9. There is also a tribute to Sibelius with a discussion and performance of Finlandia on the composer's 100th anniversary, February 19, 1965. I found What is a Mode? most fascinating and somewhat of a revelation concerning popular music of the time, including an appreciation of the Beatles. The last example in this concert illustrating modes is a smashing performance of Debussy's Fêtes. In Berlioz Takes a Trip, we are treated to an examination of the idée fixe in the Symphonie fantastique all with the aid of the Philharmonic. Bernstein is very positive about the "flawed masterpiece" Fidelio, the opera that Beethoven wrote and rewrote. He explains the ins and outs of the whole opera with the plot and sub-plots which attract critical attention. In truth, according to Bernstein, the blame lies with the author who saddled the composer with a problematic libretto. Bernstein introduced four young voices to perform some "charming excerpts."
The last of the 14 individual programs in this set is the Aaron Copland Birthday Party, celebrating his 60th on the evening of February 12, 1961, which ended with Copland conducting his well-known El Salón México. But there is more, much more! Plus, there are three episodes of "Young Performers" introducing, among so many of outstanding talents, pianist André Watts, violinist James Oliver Buswell IV and the 30-year-old Claudio Abbado. This is a unique, engaging collection; a pleasure to watch and listen to the articulate Lenny talk about music and music-making. Volume Three on Blu-ray has been announced and is imminent.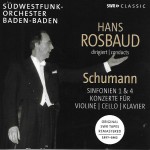 Hans Rosbaud was one of the few great conductors of his time who rarely performed beyond Germany, Switzerland and France. Undoubtedly, he would have been internationally recognized had he been active in the outside world. However, his name was somewhat familiar as the conductor in many records by Wilhelm Backhaus, Walter Gieseking, Pierre Fournier and various singers. DG issued their complete catalogue of Rosbaud recordings in 2004 but it is on SWR Classic CDs that he is now best represented. In addition to single CDs they have numerous composer-dedicated sets: Bruckner, Haydn, Tchaikovsky, Mozart, Brahms, Chopin and now a Schumann collection (SWR19085CD, 3 CDs naxos.com). Disc One has the First and Fourth Symphonies and an overture to Shakespeare's Julius Caesar, Op.128. Disc two has the Cello Concerto, Op.129 with Pierre Fournier and the Violin Concerto, WoO23 with Henryk Szeryng. The Third CD finds Annie Fischer playing the Piano Concerto in A Minor, Op.54. Schumann, as some readers may know by now, is my most cherished composer and I am critical of any performer, live or recorded, who skews the score by straying too far from what is written. Here are perfectly balanced performances, meticulously prepared but not for a moment sounding over-rehearsed or uninspired. Were it not that I have a copy, I would want this set.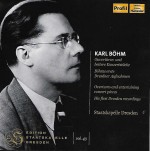 On the other hand, Austrian conductor Karl Böhm (1894-1981) was recognized across the music world, emerging, in the 1930s with his superb recordings from Dresden with the then Saxon State Orchestra. After WWII he was a major maestro worldwide until his death in 1981. From the late 1930s on just about any station in the world that played any classical music even for only a few hours on the weekend, most probably would have a 78 rpm record or two of light classics by the Saxon State Orchestra. Conducted by Böhm, a part of their recorded repertoire consisted of overtures and entertaining concert pieces, the genre of music that Sir Thomas Beecham would refer to as "lollypops." Their 78s were sold in stores around the world.
Today it is interesting to see some of the repertoire that did so well for Electrola, HMV, et al. being reissued by Profil as Edition Staatskapelle Dresden, Vol. 43: Karl Böhm (PH18035, 2 CDs naxosdirect.com). The performances are absolutely first rate and the recordings full bodied and dynamic. Do they have the same attraction all these years later? Here is the list of just the overtures: Die Fledermaus, Abduction from the Seraglio, Marriage of Figaro, Egmont, Leonore 3, Der Freischütz, Oberon and The Bartered Bride. That's only CD1 of two. More overtures to follow plus the Rákóczy March, the Emperor Waltz, Eine Kleine Nachtmusik, Capriccio Italien, and more to a total of 24 complete little showpieces. Two and a half hours of "never-a-dull-moment." A lot of contagious energy here.