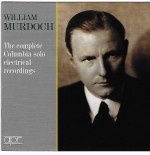 In the day… a rather long-gone day, if you listened to the ABC's classical radio station in Sydney, Australia you would immediately recognize the name William Murdoch. Next to Percy Grainger, who today is remembered almost solely as the composer, Murdoch was acknowledged to be the finest Australian pianist in the first half of the 20th century. Born in Victoria in 1888, he showed an early aptitude for music but wished for a career in law. He won a preliminary legal scholarship at the University of Melbourne, all the while continuing his musical studies at the Melbourne Conservatory of Music. At the age of 17 he won a scholarship to the Royal College of Music in London. He travelled there in 1906 and studied four years under Frits [sic] Hartvigson, gaining two gold medals, a Bechstein grand piano and the praise of Sir Hubert Parry who described Murdoch as "gifted and charming." His London debut was in 1910. However, it was his reception on his tour of South Africa as accompanist for contralto Clara Butt (not yet a Dame) that finally decided him on music. He concertized and toured Scandinavia, also Canada and the United States, Australia and New Zealand. He began making acoustic recordings which he criticized openly because of the engineer's manipulation of the dynamics. From 1925 he was heard on electrical recordings, collected here as The Complete Columbia solo electrical recordings from 1925 to 1931 (Appian Recordings APR6029, 2CDs naxosdirect.com). The two Beethoven sonatas, Pathétique and Appassionata, sonically most impressive and interpretively unique, were recorded at Murdoch's insistence in an empty Wigmore Hall in London on October 12, 1926 and January 19-20, 1927. These recordings pre-date the Schnabel recordings by at least five years and it is obvious that Murdoch's interpretations are the product of his original thinking which holds our close attention to the very last note. I played a few tracks for my friend, a renowned critic, whose attention did not waver.
There are 43 tracks of the most beautiful versions imaginable of piano favourites, all reflecting his original thinking. As an example, Murdoch's gentle, poetic performance of the dramatic Rachmaninoff Prelude in C Sharp Minor, Op.3 No.2 will convince with newly found eloquence. The entire contents may be checked at Amazon UK for titles. William Murdoch, the consummate musician, died on September 9, 1942.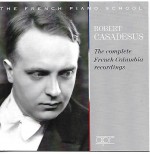 Another fine set of interest has arrived from Appian Recordings. The label is devoted exclusively to restoring historic recordings by pianists both universally known and, in many cases, those known only to the cognoscenti. Here we have The Complete French Columbia Recordings 1928-1939 by Robert Casadesus (APR7404, 4 CDs naxosdirect.com). Included are all the commercial releases from 78rpms together with a first release of a performance of the Mozart Piano Concerto K537 "Coronation" recorded in March 1931 by Casadesus with the Walther Straram Orchestra. Casadesus was born in Catalonia. He lived in France and changed his name to Casadesus, meaning the house above the village. English-speaking people were at a loss to pronounce his name correctly. It is "Cazadsu." Robert was a child prodigy who played The Harmonious Blacksmith at the age of nine without using any pedals… he couldn't reach them. At the Paris Conservatoire be was friends with Fauré, who much admired his playing, particularly playing the composer's own works. He was also good friends with Ravel. When Ravel came to the studio to make piano rolls, he found two sections beyond him, La Gibet and the Toccata from Le Tombeau de Couperin and he persuaded Casadesus to record them instead. The Aeolian Company released the rolls as the playing of Ravel but sister Gaby Casadesus later admitted that her brother was very well paid.
Other concerted works in this collection include Fauré's Piano Quartet No.1 in C Minor, Op.15 with Joseph Calvet, violin, Léon Pascal, viola, and Paul Mas, cello, recorded in May 1935. Also, Georges Witkowski conducting his Mon Lac with the Orchestra Symphonique de Paris as recorded in June 1928. Mozart's Piano Concerto No.24 in C Minor K491 was conducted by Eugène Bigot with the same orchestra in December 1927. Weber's well known Konzertstück in F Minor finds Bigot conducting again on June 8, 1925.
There are some interesting duos here, including the Debussy Cello Sonata and Caplet's Danse des petits nègres both with Maurice Maréchal from June 3, 1930. Casadesus' own Flute Sonata Op.13 finds him in the studio with René Le Roy on that same date five years later. Some of the major works included in this historic collection are 11 Scarlatti Sonatas recorded on June 15,1937, Schumann's Études symphoniques, Op.13 together with Vogel als Prophet from Waldszenen from 1928. He plays lots of Schubert, Mozart, Schumann, Chopin, Fauré, Beethoven, Chabrier and a lone piece by Marie-Joseph-Alexandre Déodat de Séverac titled Le retour des Muletiers. That was on November 21, 1935. This set will be welcomed by those who would enjoy these pre-WWII performances collected nowhere else. The transfers are, as always with this label, state of the art. In this case by Mark Obert-Thorn.
Vladimir Ashkenazy was never regarded as a child prodigy at the Moscow Conservatory where he was studying in 1955, aged 18. Nevertheless, he received second prize in the International Chopin Competition that year and gained attention in Soviet cultural circles. A year later he won the Queen Elisabeth Music Competition in Brussels. That drew him into touring but after winning the International Tchaikovsky Competition in 1962 his life changed. He was free to spend six months in London with his family and then decided to live there permanently. He was lauded by the critics as the most exceptional pianist of his generation. The critics were right. He was not only an exceptional pianist but a complete musician who today is known also as a symphony orchestra conductor of the first order. His recording of the Rachmaninoff symphonies with the Concertgebouw Orchestra are, to my ears, way ahead of the competition in every aspect. Also, there are his complete Shostakovich and Sibelius symphonies.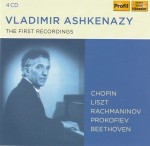 Profil has issued a four-CD set, Vladimir Ashkenazy The First Recordings (PH19030 naxosdirect.com), gathered from various sources. The first disc, recorded at the 1955 Chopin Competition contains 11 familiar Chopin works including the Ballade No.2, two Mazurkas, a Nocturne, four Etudes, the Prelude Op.45, the Polonaise in A flat Major, Op.53 and the Scherzo Op.54. The Barcarolle Op.40 from 1961 rounds out the disc.
The second disc, recorded in Moscow in 1959 and 1960 contains the two sets of Chopin Etudes, Opp.10 and 25. Disc three opens with the Liszt Mephisto Waltz and the Fifth Transcendental Etude, Feux Follets, followed by two Chopin waltzes and mazurkas and the Third Piano Sonata, Op.58 finishing with Rachmaninoff's Variations on a Theme of Corelli from Berlin 1957 and Moscow 1953. Finally, disc four gets serious with performances from 1957 in Berlin: Prokofiev's Piano Sonata No.7 Op.83 and two Beethoven sonatas, the Waldstein and No.32, Op.111. Hearing the playing on these four discs is a rare chance to knowingly hear greatness in the making. The playing is supported by full-bodied, uncluttered, dynamic sound with negligible variation between the venues.