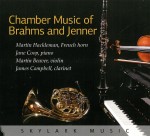 In its halcyon years, listening to the CBC was a significant part of most everyone's routine, featuring Canadian events from far and wide that were of necessity recorded for broadcast in the different time zones. Skylark Records (skylark-music.com) has negotiated a contract to reissue the highly respected recordings by Canadian pianist Jane Coop on CD. Coop has won many awards, including the Order of Canada. She was tutored by Anton Kuerti from 1968 to 1972 and from 1973 to 1976 studied with Leon Fleisher at the Peabody. Coop made her professional debut in 1973 at the St. Lawrence Centre in Toronto. If you are interested, YouTube has many, many videos of Coop in recital and in concertos.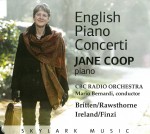 The CDs in this collection have been available since 2017 but few knew that they existed. We hadn't noticed until Skylark Music sent us these discs for comment. Chamber Music of Brahms and Jenner (SKY1701) is a program of trios featuring Coop with Martin Hackleman, French horn; Martin Beaver, violin; and James Campbell, clarinet. The six songs by Brahms "sung" on Hacklemnn's horn are a treat. English Piano Concerti (SKY1702) finds Coop with Mario Bernardi conducting the CBC Radio Orchestra. It contains entertaining concerti by Britten, Alan Rawsthorne, John Ireland and Gerald Finzi. These are, for want of a better word, captivating, and dismiss any expectation that these works are esoteric or obscure. The bravura passages present no strain on Coop.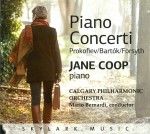 Piano Concerti Prokofiev/Bartók/Forsyth (SKY1703) once again has Bernardi on the podium, this time from Calgary. All three discs reveal the outstanding quality of performance and recording that was once the stock and trade of our national broadcaster. Kudos to Skylark for bringing them back into the catalogue.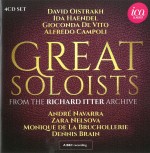 Great Soloists from the Richard Itter Archive (ICA Classics, ICAC 5199, 4 CDs naxosdirect.com) is a delightful little collection of performances of ten concertos recorded in the 1950s by the BBC of various soloists that will surely whet the appetite of music lovers. Itter was the owner of the by-now-legendary Lyrita Records and these recordings are from Itter Broadcast Collection.
The incomparable David Oistrakh is heard on November 29, 1954 in BBC Maida Vale Studios playing the Tchaikovsky with the Royal Philharmonic Orchestra conducted by Sir Malcolm Sargent. Oistrakh, although from Odessa in Ukraine, was considered to be the greatest Russian violinist. The Sibelius concerto is next, played by Ida Haendel. Her Sibelius, a specialty, was lauded far and wide. Here she is on August 16, 1955 before an appreciative audience in the Royal Albert Hall with the Royal Philharmonic Orchestra conducted by Basil Cameron.
Remember Gioconda de Vito? The Italian violinist was one of the many fine artists who emerged from Italy after WWII and was known mainly to the cognoscenti as she did not care to concertize widely and retired from the stage in 1961. She is heard on August 23, 1953 at the Edinburgh Festival playing the Viotti Concerto No.22 with Fernando Previtali and the Rome Radio Symphony. Alfredo Campoli plays Lalo's most popular work, Symphonie espagnole accompanied by Alfred Wallenstein and the BBC Symphony on April 10, 1955. Tchaikovsky's Rococo Variations from April 10,1955 features cellist André Navarra accompanied by the BBC Symphony Orchestra directed by Hans Schmidt-Isserstedt. Navarra and the BBC Symphony are also heard in the Lalo Cello Concerto with Jean Martinon conducting on October 27, 1954.
Another biggie: the Dvořák Cello Concerto with Zara Nelsova, who was born in Winnipeg and was dubbed by audiences worldwide "the Queen of Cellists," dates from August 17, 1955 with Malcolm Sargent and the BBC Symphony. Just about everyone knows the Rhapsody on a Theme of Paganini and here is a stunning performance from October 30, 1955 by Monique de la Bruchollerie with Eugene Goossens and the BBC Symphony. Hornist Dennis Brain plays the final three works in this singular collection of Goehr and the LSO and the fourth with Paul Sacher and the RPO followed by the Richard Strauss Horn Concerto No.1 (Boult, BBC, March 19, 1956). Of course, all the recordings are monaural but these are performances par excellence, eminently listenable and certainly more than simply of historic interest.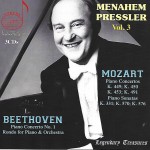 In a new set from Doremi we hear the still active Menahem Pressler earlier in his career in the mid-1960s in a long-awaited Volume 3 of series devoted to the art of the universally admired pianist (Doremi DHR-8083-5, 3 CDs naxosdirect.com/). Pressler, born in Germany in 1923, won the Debussy International Piano Competition in San Francisco in 1946 leading to his Carnegie Hall debut with Eugene Ormandy and the Philadelphia Orchestra. He made his chamber music debut in July 13, 1955 as junior member of the newly formed Beaux Arts Trio with Daniel Guilet, violin and Bernard Greenhouse, cello. Throughout the years the group, held together under the leadership of Pressler, was always a treat to watch. Although there were many changes in the strings, they remained one of the pre-eminent trios until they finally disbanded. They gave their last performance in Lucerne on September 6, 2008. Over the years, before and since, Pressler himself concertized and this new set embraces all the commercial recordings made by the young Pressler of Mozart and Beethoven. Now in his 90s he is continuing as a soloist and doing rather well.
Hearing Pressler on this set, recorded in Vienna between 1966 and 1968, we are witnessing a fabulously talented musician. Every phrase is shaped with impeccable taste. A natural Mozart player, we hear his classical approach in these concertos: No.14 in E flat Major, K449; No. 15 in B flat Major, K450; No.17 in G Major, K453; No.24 in C Minor, K491 all with the Vienna Chamber Orchestra conducted by Edgar Seipenbusch (K449, 450, 491) and Wilfried Böttcher (K453). Also, Piano Sonatas K331, K570 and K576. Finally, the Beethoven Piano Concerto No.1, plus the utterly charming Rondo in B flat Major, Wo06 for piano and orchestra, both with the Vienna Opera Orchestra under Moshe Atzmon. Pressler is a pianist second to none, making these recordings of great interest. The stereo sound of these recordings is of high quality, well recorded and transferred. Doremi promises there is more Pressler to come.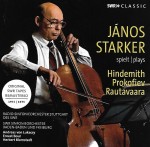 Cellist Janos Starker is one of only a handful of cellists whose names are familiar to the general public. He rose to fame in the 1960s when he recorded for Mercury Living Presence. Since then he made over 150 recordings for multiple companies. Some outstanding performances and recordings made for broadcast have been issued by German Sudwestfunk (South West Broadcasting) whose SWR Sinfonieorchester stands with the finest anywhere. From their archives, Starker is heard with them in three interesting concertos. From Stuttgart on January 14, 1973 there is the Hindemith, written in 1940, conducted by Andreas von Lukacsy. Two works from Baden-Baden: on August 17, 1975, the Prokofiev Sinfonia Concertante in E Minor Op.125 conducted by Ernest Bour; and from February 5, !975, conducted by Herbert Blomstedt, we are treated to the rarely performed or recorded Cello Concerto No.1, Op.41 by Einojuhani Rautavaara. Rautavaara (1928-2016) was a Finnish composer who wrote eight symphonies, nine operas, 12 concertos and various chamber works and vocal works. This concerto was written in 1968 and really does showcase the cello. It is dramatic and, to my ears, thoughtful and thought provoking. An interesting work. Over the many weeks, the three works on this disc have not strayed far from my player. Starker is in top form throughout all three and the orchestra is, of course, superb. The recordings from SWR's archives are brilliant (naxos.com/catalogue/item.asp?item_code=SWR19418CD).