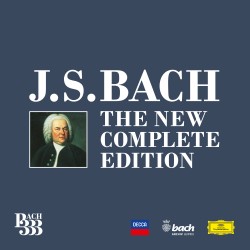 Bach333: J.S. Bach – The New Complete Edition
Various Artists
Deutsche Grammophon 4798000 (222 CDs; bach333.com/en/)
When I was presented with this edition for review a little while ago I was delighted. Now I can play absolutely any Bach work at any time, I rejoiced. Then it sunk in. What exactly can be written to appraise excellence? "Are you going to recommend it?" "Will you listen to 222 CDs?" were typical questions from friends. After assessing the enormity of the collection and playing something from just about every category, I settled down to watch the one DVD in the box, Bach: A Passionate Life, a documentary written and presented by Sir John Eliot Gardiner. This is an engrossing documentary and unfolding story, an appreciation with conversations with colleagues and others. Gardiner describes Bach's life from his birth in Eisenach on March 21, 1685 through his early years and Lutheranism in Eisenach, his family and musical education. Gardiner follows his life and works in Arnstadt, Mülhausen, Weimar and finally on July 28, 1750, at the age of 65, his death in the Thomasschule in Leipzig following a botched operation. Interwoven in the narrative are period-informed performances of significant passages from several genres, the ensemble works mostly directed by Gardiner. I mention this most informative and absorbing DVD because, quite unexpectedly, my appreciation of many of Bach's original works in the collection, all of them, choral, concertos, concerted works, string solos, organ and keyboard works, etc. has been heightened.
So, what's in the box? Everything. There are 48 CDs of sacred cantatas conducted mainly by Gardiner and the Monteverdi Choir with some performed by Masaaki Suzuki and the Bach Collegium, Japan. Others are by Philippe Herreweghe and the Collegium Vocale Gent, Ton Koopman and the Amsterdam Baroque Orchestra and Choir, Joshua Rifkin and the Bach Ensemble, and more. The 22 secular cantatas are directed by Suzuki, Rifkin, Hogwood, Goebel, Koopman, Leonhardt, Gardiner, Alexander Grychtolik and Helmut Rilling. The three Magnificats are under Gardiner, Simon Preston and Paul McCreesh. The Mass in B Minor is from Frans Brüggen. Peter Schreier conducts Masses BWV 234-236. Two versions of St John Passion are by Gardiner and Suzuki, two versions of St Matthew Passion, by Gardiner and McCreesh. Two Christmas Oratorios, Gardiner and Chailly. And there are many more works for voice and voices including, as the title states, everything else. Complete texts with translations are in four accompanying booklets. Before leaving the vocal works there are 23 CDs of historic recordings from 1933 on. They include conductors Mengelberg, Scherchen, Karl Ristenpart, Fritz Lehmann, Karl Münchinger, Neville Marriner, Benjamin Britten, Raymond Leppard and Roger Norrington. Karl Richter and the Munich Bach Orchestra and Choir has 13 CDs including another complete Matthew Passion. Vocalists include Karl Erb, Magdá Laszló, Hilde Rössel-Majdan, Waldemar Kmentt, Helmut Krebs, Alfred Poell, Fischer-Dieskau, Agnes Giebel, Elly Ameling, Ileana Cotrubas, Hugues Cuénod, Julia Hamari, Birgit Finnilä, Helen Watts, Werner Krenn, Tom Krause, Janet Baker, Robert Tear, Peter Pears, Matthias Goerne, Peter Schreier, Anna Reynolds, Hertha Töpper, Ursula Buckel and about 50 more including Emma Kirkby, Gundula Janowitz and Fritz Wunderlich.
The second half of this everything collection is devoted to instrumental works beginning with the entire catalogue of organ works on 20 discs played by distinguished soloists. Bach was a superlative organist and composer, hence his compositions are best served by virtuoso performers, as these are here, playing organs throughout Europe, Scandinavia and England. Mavens will recognize their names including: Simon Preston, Ton Koopman, Peter Hurford, Wolfgang Rübsam, Helmut Walcha, Daniel Chorzempa, Graham Barber and Christian Schmitt. CD124 presents 20 "Free Works of Unproven Authenticity." They are organ works and each has a BWV number assigned to it, BWV898 with the rest spotted between BWV 533 to 598. Played by Hurford and Preston and two others, the risk is leaving them out of a complete edition… they may be authentic.
The keyboard works are shared by harpsichordists and pianists. Harpsichordists include Trevor Pinnock, Gustav Leonhardt, Justin Taylor, Kenneth Gilbert, Huguette Dreyfus, Ton Koopman, Keith Jarrett, Masaaki Suzuki, Rinaldo Alessandrini, Christopher Hogwood, Christophe Rousset, Mahan Estahani and others, both familiar and unfamiliar. Pianists include Brendel, Argerich, Hewitt, Jarrett and Ashkenazy, Schiff and Nelson Freire, Murray Perahia, Maria João Pires, Benjamin Grosvenor and Pogorelich. There are five CDs of keyboard legends; pianists Edwin Fischer, Gulda, Lipatti, Gieseking, Backhaus, Tureck, Myra Hess (Jesu, Joy of Man's Desiring), Richter, Horowitz, Gilels and others. Organists include Albert Schweitzer and Helmut Walcha.
The Brandenburg Concertos, the violin and keyboard concertos and the orchestral suites are directed by Goebel and Pinnock and Hogwood, all with period instrument soloists. Following six CDs of a miscellany of "Orchestral Traditions" there are seven CDs of, "Instrumental Traditions" containing famous pre-informed versions from 1935 on. A group of Bach works include "Solo and Chamber Works" played by alternative instrumentalists. The first alternative is a rather unexpected version of the mighty Toccata and Fugue in D minor, BWV565 played on a lone period instrument by violinist Andrew Manze. So simply perfectly correct and satisfying in every respect, one could easily believe that this is the original, not an alternative version.
There are many other sub-groups: "The Bach Family"; "Concertos at Weimer," arrangements of Telemann, Vivaldi and Marcello; "Bach Renewed – From Bach's Sons to Mahler"; "Bach Reimagined," with orchestrations by Schumann, Mendelssohn and Brahms, Busoni, Respighi and Stokowski; "Bach Orchestrated – Reger to Stokowski"; "Inspired by Bach – Gounod to Pärt"; "Bach & the Virtuoso Piano – Liszt to Busoni"; "Bach & The Virtuoso Piano – The 20th century"; "Bach à la Jazz"; and finally, on CD222, "New Colours of Bach."
Each CD sleeve is numbered 1 to 222, and colour-coded. Finding a certain CD is easy, either categorically or finding the location within from the directory listing by BWV number, title or artist. The CDs sit vertically on an A-frame construction within the box. Very clever. Deutsche Grammophon has, once again, outdone themselves and everyone else in preparing this uniquely unmatched collection containing "every known note from the great master." There are over 280 hours of music, including 10 hours of new recordings, totaling 750 performers. For this monumental edition, DG collaborated with Decca and 30 other labels and the Leipzig Bach Archive. Three books are included, the scholarly up-to-date BWV listing, a fine quality 222 page hard-bound with an appreciation of every composition on every disc, and a matching hardcover book covering every aspect of Bach's life, complete with essays by noted authorities.
So, my reply to the questions in the first paragraph is Yes and No.