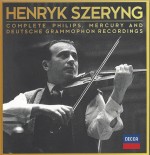 One of the truly great violinists of the last century was Henryk Szeryng, an artist who is usually overlooked in discussions when today's pundits gather. Decca has issued Henryk Szeryng Complete Philips, Mercury and Deutsche Grammophon Recordings (DG4834194, 44 CDs, deccaclassics.com).
Szeryng's life story is fascinating and unique. He was born on September 22, 1918 in Źelazowa Wola, the birthplace of Chopin near Warsaw. Through his parents he knew Ignacy Jan Paderewski and Bronislaw Huberman. When he was five, his mother began teaching him piano and harmony but at seven he was drawn to the violin, taking lessons from a former assistant of the great Leopold Auer. When Huberman heard the nine-year-old play he wanted him to advance his studies with Willy Hess, Carl Flesch or Jacques Thibaud. He studied with Hess in Berlin for a time but found him to be old-fashioned and switched to Thibaud. A significant move, for as Szeryng stated, "Everything I know violinistically speaking I learned from him." Continuing with Thibaud at the Paris Conservatory, he graduated with a first prize in 1937. He also studied composition with Nadia Boulanger from 1933 to 1937. He had already made his solo debut in 1933 playing the Brahms Violin Concerto with the Warsaw Philharmonic under George Georgescu. Following the outbreak of WWII, Szeryng, fluent in seven languages, accepted the post of liaison and interpreter of the Polish Government in Exile. On a mission to Mexico in 1941 seeking a home for 4,000 Polish refugees, he was so moved by the positive reception that he decided to become a naturalized Mexican citizen, which he did in 1946. In 1943 he was asked to head the string department of the National University of Mexico, and he assumed that post in 1945.
Artur Rubinstein, a fellow Jewish refugee from Poland, gave a recital in Mexico City in 1954, after which Szeryng visited him back-stage where Rubinstein invited him to his room to play for him. Szeryng played some unaccompanied J. S. Bach and deeply moved Rubinstein who recalled that the playing "reduced me to tears… Real music lovers want emotion… great moments… which Szeryng's playing gives them." Rubinstein and Szeryng played music together for the rest of their careers. Szeryng began concertizing around the world and his recordings were honoured with many coveted awards. In addition to many other honours he was made an Officer of the Ordre des Arts et des Lettres in Paris in 1963. In 1960 he was named Mexican Cultural Ambassador, an honour that he took very seriously. During a trip to Toronto some years later, he came to the Classical Record Shop accompanied by the PR person from Polygram, Lori Bruner, who made it clear that he should be addressed as Ambassador. We did, of course. Henryk Szeryng died on March 3, 1988 in Kassel, Germany.
The performances in this new collection include the Bach unaccompanied Sonatas and Partitas BWV1001 to 1006, the six sonatas with harpsichord, BWV1012 to 1019 with Helmut Walcha, three Brandenburgs 2,4 and 5 with Rampal (Flute), George Malcolm (harpsichord) and the Academy of St. Martin-in-the-Fields and Neville Marriner. All sublime. He is soloist and conductor of Bach's three violin concertos with the Collegium Musicum Winterthur. There are Beethoven's Violin Concerto, Triple Concerto (Arrau and Starker) and the two Romances; Brahms' Violin Concerto, Double Concerto (Starker, Haitink); 13 pieces by Fritz Kreisler and Vivaldi's L'estro armonico and The Four Seasons in which he is both soloist and conductor. Other concertos include those of Mozart, Schumann, Mendelssohn, Sibelius, Prokofiev, Khachaturian, Tchaikovsky, Wieniawski, Szymanowski, Paganini, Lalo, Bartók and Saint-Saëns. There are four essential sets of four CDs: The complete Beethoven trios with Wilhelm Kempff and Pierre Fournier; the complete Beethoven sonatas for violin and piano with the impeccable Ingrid Haebler; the Mozart 16 great sonatas and Variations K359 & K560 for piano and violin, also with Haebler, and finally Mozart's complete works for violin and orchestra with the New Philharmonia Orchestra conducted by Sir Alexander Gibson. Add works by Handel, Schubert, de Falla and a host of encore-type pieces by a miscellany of composers including those from Central and South America, some familiar, some not. We have here a collection that, beyond the obligatory warhorses, reflects his eclectic repertoire. Well done, Ambassador.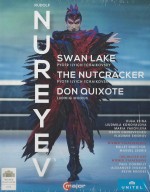 Rudolf Nureyev's choreography of three favourite ballets, Tchaikovsky's Swan Lake and The Nutcracker plus Minkus' Don Quixote, have been released in a boxed set of Blu-ray video discs by Cmajor: Nureyev (707104, 3 Blu-ray video discs cmajor-entertainment.com). The Vienna State Opera Orchestra and the Vienna State Ballet are common threads and each ballet has its individual music director. The dancers for Swan Lake (recorded in 2012) are headed by Vladimir Shishov as Prince Siegfried, Olga Esina as Odette and Eno Peci as Rothbart, the Magician, with Dagmar Kronberger as the Queen, the Prince's mother. The set – there's only one – and costumes are by Luisa Spinatelli; the conductor, Alexander Ingram. Frankly, if I weren't aware of the plot I would be lost.
Using Nureyev's stage directions, the 2012 performance of The Nutcracker is another story. It is a delight from curtain-up and danced most exquisitely by Liudmila Konovalova as Clara and Vladimir Shishov as Drosselmeyer and the whole corps with specialty dances for the Arabian, Chinese, the Flutes, etc. Entirely satisfying, the performances are quite delightful, the costumes from whimsical to luxurious.
The third ballet in this box is Don Quixote (2016), set to the music of Ludwig Minkus orchestrated and adapted by John Lanchbery. The ballet by Marius Petipa has a prologue and three acts. Petipa was the co-deviser of the above Swan Lake. Once again drawing on Nureyev's stage directions, the Spanish milieu was all he needed to create gorgeous solos, pas de deux and ensemble scenes. The sets, devised by the set and costume designer Nicholas Georgiadis, are minimal and clearly place the events. The conductor is Kevin Rhodes; Kamil Pavelka is Don Quixote, Christoph Wenzel is Sancho Panza, Maria Yakovleva is Kitri/Dulcinea. The sound and the Blu-ray video is state of the art.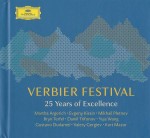 The Verbier Festival, held in the Swiss Alps each year, is celebrating its 25th anniversary and earlier this year Deutsche Grammophon issued a smart little set of four CDs containing eight memorable live performances: Verbier Festival 25 Years of Excellence (DG4835143, 4CDs bound together, deutschegrammophon.com). From a performance on July 23, 2015 Valery Gergiev conducts the Verbier Festival Orchestra in Tchaikovsky's Sixth Symphony. From July 30, 2005 mezzo-soprano Malena Ernman sings 11 Folk Songs set by Luciano Berio supported by the Festival orchestra conducted by Gustavo Dudamel, and from July 31, 2009 Yuja Wang plays the Mendelssohn First Piano Concerto under Kurt Masur. July 22, 2009 found Martha Argerich playing the Beethoven Second Piano Concerto with conductor Gábor Takács-Nagy. July 31, 2015 featured Daniil Trifonov, piano; Ilya Gringolts, violin; and Truls Mørk, cello, playing Brahms Trio No.1 in B Major, Op.8. On July 30, 2004 Evgeny Kissin, piano; Vadim Repin, violin 1; Laurent Korcia, violin 2; Yuri Bashmet, viola; and Alexander Kniazev, cello, got together for Dvořák's Quintet No.2 in A Major, Op.81. The fourth CD contains the complete third act of Die Walküre from July 25, 2013, conducted by Gergiev with a complete complement of Walküren and Bryn Terfel as Wotan, Eva-Maria Westbroek as Sieglinde and Iréne Theorin as Brunnhilde. The whole act comes through splendidly, culminating with an unexpectedly heartfelt Leb wohl from Terfel.
This is a set of great music-making, all truly inspired performances as live festival performances always are. There is, in addition, music by a composer that is new to me: Alexander Tsfasman (1906-1971), a Soviet jazz pianist, composer, arranger and publisher. He flourished from the mid-1920s until the late 1960s, during which time he was an important figure in Soviet jazz. Around 1945 he wrote a Suite for Piano and Orchestra. We hear it from August 4, 2013 with pianist Mikhail Pletnev and Kent Nagano conducting a reduced festival orchestra. It is a short work, 16 minutes, but it's immediately captivating, polite and whimsical. In four movements: Snowflakes; Lyrical Waltz; Polka; Presto.