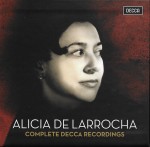 Music lovers may recognize the name of pianist Alicia de Larrocha and those who do might recall that she was a prime proponent of the music of Spanish composers such as Manuel de Falla, Rodrigo, Albéniz, Granados, etc. However, as we knew back then, she had a much more extensive repertoire, confirmed by Alicia de Larrocha, Complete Decca Recordings (Decca 4834120, 41 CDs deccaclassics.com/en/cat/4834120). This set presents it all, even adding the recordings for Hispavox, S.A. and her first recordings for American Decca in 1953-55 in New York City.
Alicia de Larrocha y de la Calle was born on May 23, 1923 in Barcelona. Both her parents were pianists and she was also the niece of pianists. She began studying with Frank Marshall when she was three and gave her first public performance at the age of five at the International Exposition in Barcelona. The following year she appeared at the World's Fair in Seville and later made her orchestral debut at the age of 11. By 1943, her performances were selling out in Spain and she toured internationally in 1947. In 1950, three years after her first concert outside of Spain, she performed the Poulenc Concerto for Two Pianos with Poulenc at the second piano. The conductor was Carlos Surinach. In that same year she married her regular piano partner Juan Torro, who had been a fellow student of Marshall. In 1954 she toured with the Los Angeles Philharmonic. In 1969, de Larrocha performed in Boston for the Peabody Mason Concert Series. By 1966 she had already engaged in a first strenuous tour of Southern Africa, which proved so wildly popular that three further tours were undertaken. She enjoyed early encouragement from Alfred Cortot, Claudio Arrau and from her lifelong friend Arthur Rubinstein. She was considered one of the great piano legends of the 20th century. Reuters called her "the greatest Spanish pianist in history." Time addressed her as "one of the world's most outstanding pianists" and The Guardian declared that she was "the leading Spanish pianist of her time." She won multiple Grammy Awards, a Prince of Asturias Award for the Arts and in 1995 she became the first Spanish artist to win the UNESCO Prize. Quoting from the enclosed booklet, "In the second half of the 20th century, if you wanted to witness a Who's Who of New York City-based keyboard luminaries gathered in one place, you simply had to purchase a ticket for an Alicia de Larrocha recital." De Larrocha retired from public performances in October 2003 and died in Barcelona on September 25, 2009.
Browsing through this box, wherein the discs are sturdily individually sleeved in reductions of the original LP covers, there were a few old friends but some were new to me. The 24 Preludes of Chopin are more than familiar and, as de Larrocha's was new to me, that was the first dip into the set. Listening to her was a far different experience from other versions at hand, Pollini, Argerich and Ashkenazy. Alongside de Larrocha's their readings now sound mostly facile. Music is a performer's art and the score is a starting point, not the end. It is clear that de Larrocha sees the score this way and she passes on to an audience what the notes tell her.
There are three interesting Schumann discs, including two performances of both Carnaval (1978 and 1987) and the Allegro in B Minor, Op.8 (1971 and 1987). Also the Fantasie in C major, Op.17, Kreisleriana and four others, including the A Minor Concerto, Op.54 with the Royal Philharmonic under Dutoit. Listening to discs picked out at random have provided hours of hearing familiar and some unfamiliar repertoire in these treasured performances, including concertos and/or solo works by Beethoven, Mozart, Rachmaninoff, Schubert, Bach, Franck, Ravel, Debussy, Fauré, Mendelssohn, Grieg, Chopin, Khachaturian, Liszt, Handel, Scarlatti and Tchaikovsky. Making this collection unique and doubly exciting are the compositions by her countrymen, performances and recordings that are authoritative for sure and may reasonably be regarded as yardsticks. Here are their family names: Surinach, Halffter, Nin-Culmell, Mompou, Montsalvatge, de Falla, Soler, Albéniz, Turina, Granados and Esplá.
Of all the big boxed collections issued for one reason or another, this one has the best reason to exist. It certainly will ensure the greatest return on investment.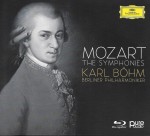 A recent addition to the reissue of important CDs on Blu-ray audio is the Karl Bohm/Berlin Philharmonic set, Mozart – The Symphonies (Deutsche Grammophon 4835174, ten CDs, one Blu-Ray disc deutschegrammophon.com/en/cat/4776134). The original recording sessions were in the legendary Jesus-Christus-Kirche in Dahlem, Berlin between 1959 and 1969 and issued as the Mozart 46 Symphonies. The extra five symphonies over the recognized 41 were works contemporary with the earlier numbered ones but not published as symphonies. The ten CDs in the new set are identical to the earlier issue. The Blu-ray is simply perfect! The performances are proven, the instruments are placed right where they should be, dynamics are right and the more convincing illusion draws one into the occasion. And they're on one perfect disc… all 46!
Julian Olevsky was one of the finest violinists of the 20th century. He was born in Berlin in 1926. His family fled the Nazis and moved to Argentina, where at age 12 he debuted with orchestra as guest soloist under the direction of Fritz Busch. Following a series of recitals and orchestral appearances throughout South America, in 1947 he immigrated to the United States, making his debut in Town Hall in New York to great success. In the 1950s and 60s he toured in many of the world music centres and appeared with many of the world's finest orchestras. Doremi has issued Volume 5 of their continuing series of Olevsky recordings (DHR-8054/5 doremi.com, 2 CDs) containing all the violin concertos that Olevsky recorded: Mendelssohn, Bruch, Wieniawski, Brahms and Lalo. The original issue of the Lalo Symphonie Espagnole had only four of the five movements. The third movement, Intermezzo, was omitted as was the practice in those days, even with Huberman, Heifetz, Elman, Francescatti and Milstein. However, in the Olevsky, Westminster recorded it and didn't use it but gave Olevsky a copy. Doremi has a copy and is able to release the complete five-movement work. Evident throughout these recordings is his silky, warm sound, a strong personality and a refined style. The sound of these Westminster stereo recordings is lifelike but dated.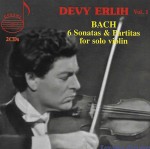 If you are one who appreciates absolutely impeccable playing and artistry from a violinist, you simply must hear the late French violinist Devy Erlih playing Bach Six Sonatas and Partitas for solo violin in a very rare Adès recording from 1969. Erlih was born in Paris to Bessarabian-Jewish immigrants. By his tenth birthday he was already a member of the folk orchestra in a French brasserie run by his parents. His father was a folk musician who played the cimbalom and pan pipes. Devy's playing would reflect, of course, his strong Slavic roots but tempered by a French refined elegance. Initially he played by ear but he went on to win the Long-Thibaud competition in 1955 in addition to the coveted Paris Conservatoire Premier Prix. He toured throughout Europe, America and Japan. He was killed in a road accident in Paris on February 7, 2012. Volume One of a proposed Devy Erlih series contains those unparalleled Bach performances on Adès in immaculate transfers that immediately captivate the listener through to the very last note (Doremi DHR 8061 doremi.com).