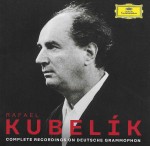 Rafael Kubelík (1914-1996) was one of the finest conductors of the last century. He was the son of Czech violinist and composer Jan Kubelík (1880-1940), with whom he studied violin. At 14 he entered the Prague Conservatory studying violin, piano, composition and conducting, graduating at the age of 19. As a pianist he served as accompanist to his father, whom he adored, on a United States tour in 1935. In 1939 he became music director of the Brno Opera until November 1941 when the company was shut down by the occupying Nazis. The Czech Philharmonic Orchestra, however, was permitted to continue playing and Kubelík became its principal conductor. He refused to conduct Wagner during the occupation and declined to give the Hitler salute to the Nazi Reichsprotektor. He left Prague for obvious reasons and disappeared into the countryside. In 1945 he conducted the Czech Philharmonic's first post-war concert and he helped found the Prague Spring Festival, a perennial event. Following the Communist takeover in Czechoslovakia he moved to England.
Kubelík was music director of the Chicago Symphony from 1950 to 1953, the Royal Opera House from 1955 to 1958 following Solti, then the Bavarian Radio Symphony from 1961 to 1979 following Eugen Jochum. During these appointments and after, he was a sought-after guest conductor in Europe, North America and Australia where I first heard him. I retain a vivid memory of that concert.
In his earlier years Kubelík recorded for EMI. Following his tenure in Chicago, where he recorded for Mercury, he appeared on other major labels with various orchestras but most significantly for DG. His entire catalogue of DG recordings has been assembled in Rafael Kubelík Complete Recordings on Deutsche Grammophon (4799959, 64 CDs, 2 DVDs, 120 page booklet). The works of the many composers represented in this set include the celebrated edition of the complete Beethoven Symphonies with nine different orchestras: London Symphony (1); Berlin Philharmonic (3); Concertgebouw (2); Bavarian RSO (7); Israel Philharmonic (4); Boston Symphony (5); Orchestre de Paris (6); Vienna Philharmonic (7); the Cleveland Orchestra (8) and finally back to Munich for his Bavarian RSO (9). The two Sevenths were recorded four years apart and the same movements are within seconds of each other.
Discs 27 to 36 contain the complete Mahler symphonies with the Bavarian RSO, recorded in 1967-70 in the Herkulessaal, Munich. Many times over this cycle, the performances leave the attentive listener with a new or better understanding of the composer. Quoting Daniel Barenboim, "I often thought I was missing something in Mahler until I listened to Kubelík. There is a lot more to be discovered in these pieces than just a generalized form of extrovert excitement. That is what Kubelík showed."
Deservedly, there are 11 CDs of the music of Dvořák, including what many regard as the definitive collection of the complete symphonies with the Berlin Philharmonic recorded in the Jesus-Christus-Kirche in Berlin in 1966 and 1971/73. Happily listening through them again confirms that these could arguably be the finest versions on record. There is an always-exciting, wonderfully fresh feeling of discovery in them, with the orchestra in total sympathy with the Czech conductor. The Dvořák-fest continues with the ever-uplifting Scherzo capriccioso Op.66 with his Bavarian RSO from 1973 and two CDs of overtures and symphonic poems from 1973/74. Just a reminder, they are: My Homeland (1962), Husitská Op.67, Amid Nature Op.91, Carnaval Overture Op.92, Othello Overture Op.93, The Water Goblin Op.107, The Noon Witch Op.108, The Golden Spinning Wheel Op.109, The Wood Dove Op.110 plus the Symphonic Variations Op.78. The complete Slavonic Dances, Opp.46 and 72 are here and also the Stabat Mater Op.58 with soloists, chorus, organ and orchestra. All the Bavarian recordings were made in the Herkulessaal in Munich. To tie off the Dvořák offerings, Kubelík appears with the English Chamber Orchestra in London conducting the Legends Op.59 and the Serenade for Strings. Op.22.
There are the four Schumann Symphonies from Berlin and a haunting Gurrelieder and so much more. Glancing over the contents one can only be impressed by his repertoire. Composers represented include Bartók, Berg, Bruckner, Falla, Grieg, Handel, Janáček, Mozart, Orff, Smetana, Wagner and others. The two DVDs contain revelatory performances of Mozart's 38th (VPO), Beethoven's Second and Leonora III (Concertgebouw), the Eroica (BPO) and the Bruckner Fourth (VPO). As a bonus: "Scenes from a musical life," an informative biography with conversations, rehearsals, etc.
Kubelík's performances were never matter-of-fact. He drew music from the score without any excessive subjective hyperbole in tempi or accents or balances to make a point. This set will be a must-have for those who can appreciate his art. Noticeably absent are the four Brahms symphonies. He recorded them for Decca with the Vienna Philharmonic in 1956/57. Symphonies 1 & 4 are on Australia's Decca Eloquence, available through Amazon Canada for $11.21.
Our review in the last issue enthused over La Nilsson, containing her complete Decca/DG recordings. Now as a complement there is a DVD, Birgit Nilsson A League of Her Own, an exultation of her life and art (Cmajor 800008). This is a documentary, a solid 89 minutes with not a minute wasted on any item not pertinent to her life, development and career, with videos to the point. We see and hear her singing in many venues – the Vienna State Opera, the Salzburg Festival, the Met – and she talks about memorable incidences including encounters with Karajan, Knappertsbusch, Böhm, Rudolf Bing and producer John Culshaw. During the recording of Götterdämmerung in Vienna, Nilsson is distinctly unhappy with the recorded balance between the orchestra and her voice, stating (correctly so) that in tuttis she does not soar above the orchestra as it is heard in the studio and the opera house. She quotes another scene not involving her that further illustrates that Culshaw always favours the orchestra. Culshaw agrees that he does and there is a tacit armistice. There are interviews with many of her colleagues, including her longtime special friend Plácido Domingo. A really interesting program.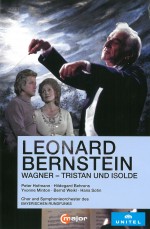 Another significant DVD from Cmajor is the video of Leonard Bernstein's controversial Tristan und Isolde from Munich, recorded live in 1981 with the Bavarian RSO and Choir (746208, 3 DVDs). The Tristan is Peter Hofmann, Hildegard Behrens is Isolde, Yvonne Minton is Brangäne, Bernd Weikl is Kurwenal. It was Bernstein's lingering tempi that bothered many upon its CD release on Philips, particularly in the Prelude. Being there and seeing him rapt by the music, his tempo is perfect and not a whit overlong. This was a concert performance with the singers performing before a very large scrim behind the orchestra. One's attention is held by the characters, not by any stage business. The new listener should read the plot given in the enclosed booklet. The cast clearly convey all the intended emotions, always supported by the engaged conductor. Altogether, a most welcome and illuminating release. A real treat.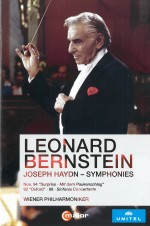 Another DVD of Leonard Bernstein has him directing an appropriately reduced Vienna Philharmonic in the Musikverein playing Haydn (Cmajor 746408). There are three G-Major symphonies, No.94 "Surprise," No.92 "Oxford" and the beautiful No.88. Adding the Sinfonia Concertante in B-flat Major makes a perfectly charming, undemanding 110-minute concert. Nothing sensational here, but does everything need to be?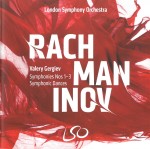 Over the last few years, 2008 to 2015, LSO Live has released recordings of the three Rachmaninov Symphonies with Valery Gergiev conducting, recorded live in the Barbican Centre. They now come in a boxed set as three CD/SACD hybrid discs plus one Blu-ray audio disc of the symphonies and more (LSO LS000816). Gergiev would seem to be the right person to conduct the music of his countryman, even though there are others, including Russians, who have recorded all three Rachmaninov symphonies or individual entries. Back in the day, Eugene Ormandy and the Philadelphia Orchestra were the go-to recordings and were regarded as pretty well definitive. As an aside, Rachmaninov consulted with Ormandy while orchestrating the (included) Symphonic Dances Op.45. Gergiev takes these Rachmaninov scores very seriously and offers them boldly, without apology. Being accustomed to hearing a brazen First, I was quite taken aback by Gergiev's assertive, majestic performance. The opulent, hour-long Second, the jewel of the cycle, is simply perfect… nostalgically beautiful throughout, particularly in the first and the third movement Adagio. The Third was written some 30 years later and does not enjoy the same popularity. Also included are Rachmaninov's Symphonic Dances and two Balakirev symphonic poems, Russia and his acknowledged masterpiece, Tamara.
The performances are played with commanding conviction, enjoying full and brilliant sound. A winning edition. And think about this: when you acquire this set you own all these pieces three ways, on CD, on SACD and in Blu-ray 5.1 surround sound.