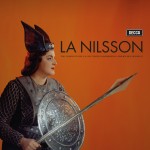 Exciting beyond words! A friend asked me about Universal's omnibus collection of the recordings of Birgit Nilsson (La Nilsson - The Complete Decca · Deutsche Grammophon · Philips Recordings Decca 4832787) to which I answered impulsively, "Exciting beyond words." Just consider the contents drawn from the archives of DG, Decca, Philips, the BBC, the ORF and the Metropolitan Opera. On 79 CDs and two DVDs there are 27 complete operas, four by Richard Strauss and 12 by Wagner (including two Rheingolds that do not feature Nilsson!) in addition to those by Mozart (Don Giovanni, two versions, Leinsdorf and Böhm), Beethoven (Fidelio, Maazel), Verdi (Un Ballo in Maschera, Solti; Macbeth, Schippers and Aida, Mehta), Puccini (Tosca, Maazel; La Fanciulla del West, Matacic and Turandot with Jussi Bjoerling and Renata Tebaldi, Leinsdorf) and Weber (Oberon, Kubelik and Der Freischütz, Heger). Also many recitals, duets, arias and rehearsals.
As for any staged work, the supporting cast in any opera is hardly of minimal importance and the producers of these original performances certainly knew their jobs. First out of the box is the Tristan und Isolde from September 1960 with Fritz Uhl (Tristan), Regina Resnik (Brangäne), Tom Krause (Kurwenal) and Arnold van Mill (King Mark). The Vienna Philharmonic is conducted by Georg Solti. John Culshaw produced. (After Nilsson's heartbreaking Mild und leise, the informative CD that follows, telling us in perhaps too much detail "how the watch was made," somewhat breaks the spell. There is a second version of Tristan conducted by Böhm, live from Bayreuth in August 1966 with Wolfgang Windgassen, Christa Ludwig, Eberhard Wächter and Martti Talvela. Also a CD of excerpts from Tristan conducted by Hans Knappertsbusch, who was Decca's first choice to conduct the complete Ring, an honour that defaulted to the less experienced Wagnerite, Georg Solti. Next up is Die Walküre from September 1961 with the LSO under Leinsdorf. Nilsson is Brunnhilde, Jon Vickers is Sigmund and George London is Wotan. 1958 saw the first installment of the Decca/Culshaw Ring with the VPO, Das Rheingold without Nilsson but with Kirsten Flagstad as Fricka. A very nice gesture by producer John Culshaw to employ Flagstad, the greatest Brunnhilde of her day, then aged 63. Walküre follows from 1966/67 with the cast for the full cycle: Nilsson, Hans Hotter (Wotan), Wolfgang Windgassen (Siegfried), Christa Ludwig (Fricka) with the Ortlinde sung by Helga Dernesch who would be Brunnhilde in Karajan's Ring Cycle for DG. In Siegfried the Forest Bird is sung by Joan Sutherland. The famous BBC video of the final session of Gotterdämmerung in Vienna in 1965 with Solti, Nilsson and the horse is included.
Further along in this Nilsson treasury, there is the live Böhm Ring from Bayreuth in 1966/67 with Nilsson's Brunnhilde and Theo Adam as Wotan. When asked of their own favourite roles in all opera, both Kirsten Flagstad and Birgit Nilsson named Brunnhilde, particularly in Gotterdämmerung, which demands both a heroic singer and dramatic actress. Also, Nilsson stated that her best recorded performance in the role was this live Bayreuth production with Böhm. Under Böhm's direction, there is palpable tension and drama. Tannhäuser from 1969 recorded in the Jesus Christus-Kirche in Berlin is conducted by Otto Gerdes with the Deutschen Oper Berlin featuring Wolfgang Windgassen as Tannhäuser, Nilsson as Elizabeth and Venus, Theo Adam as Hermann and Dietrich Fischer-Dieskau as Wolfram von Eschenbach.
The first of the Richard Strauss operas is Salome, recorded in the Sofiensaal in Vienna during 1961. Again John Culshaw is the producer. As conducted by Solti, Nilsson's Salome is wanton, Gerhard Stolze is an incestuous Herod and Grace Hoffman is a scheming Herodias. Eberhard Wächter is the unfortunate Jochanaan. This is an astonishingly realistic, atmospheric recording with, it seems, virtually unrestrained dynamics that bring the goings-on right into the room. The book tells us that this is a 2017 remaster. What an exceptional performance and recording this is!
The first of two recordings of Elektra dates from 1966, also in the Sofiensaal, and features, of course, Nilsson as Elektra with Regina Resnik as Klytämnestra, Marie Collier as Chrysothemis, Gerhard Stolze as Aegist and Tom Krause as Orest. Nilsson is Elektra and once again the recording of the often ferocious score is well up to the above Salome. The second version of Elektra is a DVD of the live performance at the Met in February 1980 with Mignon Dunn as Klytämnestra, Regina Resnik as Chrysothemis and Donald McIntyre as Orest. That was some 14 years after the version above, but Nilsson's artistry and presence remained intact; and watching her and Resnik made this a performance to remember. Elektra's death scene is unique. There are some bonus tracks on the DVD including Nilsson delivering a curtain speech at a MET Anniversary Gala on April 27, 1996 honouring James Levine. Finally, Strauss's Die Frau ohne Schatten, conducted by Karl Böhm in 1977 with the Vienna State Opera chorus and orchestra has Nilsson as Sein Weib and the last change of scene includes James King, Leonie Rysanek, Lotte Rysanek and Walter Berry.
The very impressive, 200-page hardcover art book contains a biography of Nilsson, lavishly illustrated with lots of full-page photographs and full details of the recording sessions. This is not merely a collection of recordings but a fitting homage to a great artist. Uniquely boxed, La Nilsson is a 100th anniversary limited edition of 79 CDs and 2 DVDs with 27 complete operas and bonus features (Universal 8327874).
Hänssler has issued a set of the Mozart Complete Sonatas for Piano and Violin played by Dmitry Sitkovetsky, accompanied in 2006 by Antonio Pappano and by Konstantin Lifschitz in 2007/8/9 (Hänssler HC17013, 4 CDs). The sonatas on disc one with Pappano, K304, K305, K380 and K454, were recorded in Potton Hall, Suffolk and the rest, all with Lifschitz, originated in the studio in Heidelberg. The brisk tempos in some of the sonatas give them an attractive quality but on the other hand are often too fast to develop the phrasing in the accepted Mozart style.
The slower tempo sonatas K378 and K301 and some others are ideal. The two-movement K304 in E minor, the only sonata in a minor key, is a charmer, particularly the first theme of the first movement sung without vibrato. Altogether, a pure delight. As is K403 on CD4… as are all 17 sonatas.
There are other complete recordings that give more attention to the intrinsic Mozart style. But Sitkovetsky has more than enough interesting qualities to justify this one. They are truly presented as sonatas for piano and violin, offering correct recorded balances throughout… a very nice job by the engineers, wherein for the most part the piano is leading. Sitkovetsky is not a flamboyant performer but is eloquent and compact, maintaining a consistent and satisfying presentation. He is an excellent chamber music player.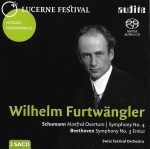 Audite continues to issue historic live performances from the Lucerne Festival in the mid-20th century. These recordings are the first issues to be taken directly from the original master tapes recorded by the Swiss Radio and Television, the SRF, at the International Music Festival. The latest issue is a concert from August 16, 1953 conducted by Wilhelm Furtwängler of Schumann and Beethoven. The recordings are so fresh, dynamic and realistic that for the listener (at least this one) the intervening years evaporate, and then is now. This two-disc set is available in two forms, as a 2CD set (23-441) or on 2 SACDs (91-441). The concert consisted of the dramatic Schumann Overture to Manfred, Op.115, followed by a mighty performance of Beethoven's Eroica Symphony as only a Furtwängler could inspire. The Schumann Fourth Symphony performance is another triumph in which, from the very first bar, everything about it reflects a real sense of occasion… which indeed it is. The playing of the Swiss Festival Orchestra is, of course, inspired and the dynamics of the recording take us right inside the Lucerne Kunsthaus.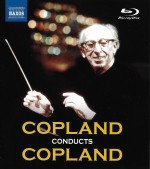 To celebrate Aaron Copland's 75th birthday on November 14, 1975, the Los Angeles Philharmonic Orchestra engaged him to conduct his own works in their home, the Dorothy Chandler Pavilion. Naxos has issued a Blu-ray video of that concert as it was broadcast across the continent (Copland Conducts Copland Naxos NBD0068V). The concert opens, rather appropriately, with a fanfare, the Fanfare for the Common Man, written at the request of his friend, conductor Eugene Goossens. We know this because, in a voiceover, Copland says a few words to introduce each piece to the audience at home. Also on the concert were El salón México, the Clarinet Concerto with the dedicatee Benny Goodman as soloist and Hoe Down from Rodeo. For the concluding work, a suite from his opera, The Tender Land, the sizeable Los Angeles Master Chorale joined the orchestra for the work's finale The Promise of Living. The composer's beat and cues to the players are clearly observed, resulting in a good time had by all.