A new release from Doremi of performances by Tossy Spivakovsky deserves attention. The opening work, Bach's Chaconne, is so magnificently played and recorded that arguably it is worth the price of the whole set. Spivakovsky is using the curved Vega Bach bow and with it, instead of arpeggios the violin affects organ-like sonorities. The result is breathtaking and hypnotic. Spivakovsky was not only an impeccable virtuoso but a thorough musicologist. As we learn from his spoken introduction immediately preceding the performance recorded by Swedish Radio in 1969, his use of the Vega Bach bow followed years of research and study of Bach's original manuscripts. In his day, he was one of those elite soloists such as Heifetz, Casadesus and Stern who were regularly invited to perform with the New York Philharmonic, not only for the standard repertoire, Beethoven, Mendelssohn, Brahms, but many contemporary works such as Bartók, Martin, Sessions, Menotti and William Schuman. He was a close friend of Bartók and premiered his Second Violin Concerto in 1943 in Cleveland, followed that year by a performance with the Philharmonic in New York.
Nathan "Tossy" Spivakovsky, born in Odessa, a part of Imperial Russia in 1906, was an outstanding child prodigy. As teenagers he and Jascha, his pianist older brother (himself also considered a prodigy), played throughout Europe to great acclaim. On tour, he was heard by Wilhelm Furtwängler who engaged him at 18 to be concertmaster of the Berlin Philharmonic Orchestra, where he worked with the greatest conductors of the era. With Hitler's rise to power he left Germany, going to Australia and New Zealand before coming to the United States. His brother Jascha stayed in Australia where he was a lauded pianist, concertizing extensively.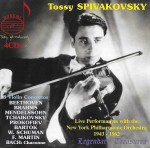 Tossy Spivakovsky – Live Performances with the New York Philharmonic Orchestra 1943-1966 (Doremi DHR-8025-8, 4 CDs) contains eight concertos of various styles and periods, all brought to life in authoritative and impressive performances. According to critics of the day, Spivakovsky had one of the most formidable techniques of all and flawless musicianship. He was one of the busiest soloists, guesting with the great orchestras of the world. The works on these four CDs, except for the Tchaikovsky from Stockholm (Nils Grevillius, 1960) and the Schuman from Buffalo (Lucas Foss, 1966), are all with the New York Philharmonic. Heard are the Prokofiev Second (Schippers, 1959), Beethoven (Amerigo Marino, 1963), Frank Martin (Robert La Marchina, 1963), Bartók No.2 (Rodzinski, 1943), Brahms (Josef Krips, 1961) and the Mendelssohn E Minor (Paul Paray, 1956). The very good sound throughout (except for the Bartók 1943 acetates) comes from master tapes from various sources. The enclosed booklet includes a beautifully written, informative seven-page biography of the artist who died at 91 on July 20, 1998 at his home in Westport CT.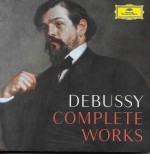 As 2018 is the centenary year of Claude Debussy's death, record companies are assembling Debussy performances from the archives and, provided that the sound quality is reasonably acceptable, producing an anniversary set. It goes without saying that based on the calibre of the artists involved, some of these anniversary compilations are bound to be more attractive than others. To hand is Debussy Complete Works from Deutsche Grammophon (4798642, 22 CDs, 2DVDs + 206 page booklet) containing "at least one version of all the composer's music published in his lifetime as well as some posthumously issued juvenilia and fragmentary works." The edition is arranged as follows: volumes 1-4 Orchestral; 5-11 Piano Solos and Duets and Chamber Music; 12-15 Mélodies; 16, 17 Pelléas et Mélisande; 18, 19 Staged Works and 20-22 Historical Bonus. Finally, two DVDs of a different performance of Pelléas et Mélisande. Disc one of the orchestral works contains the Bernstein/Santa Cecilia Images, Prélude à l'après-midi d'un faune and La mer. The other 16 titles including concerted works are offered in proven performances from conductors Pierre Boulez, Daniel Barenboim, Iván Fischer, Jean Martinon, Bernard Haitink, Eduard van Beinum, Ricardo Chailly and Charles Dutoit.
Debussy's ever-fascinating and seductive piano music comprises the 24 Preludes, the 12 Etudes, Images, Suite bergamasque, Children's Corner, two Arabesques and so many familiar and unfamiliar exquisite jewels. This repertoire is given to Pierre-Laurent Aimard; Maurizio Pollini; Arturo Benedetti Michelangeli; Jean-Yves Thibaudet; Rafał Blechacz; Zoltán Kocsis; Támas Vásáry; Seong-Jin Cho, et al. The chamber music is played by musicians of the calibre of Reginal Kell (clarinet), the Emerson String Quartet, the Kontarsky brothers, Brooks Smith, Anne-Sophie Mutter and Lambert Orkis, Hélène Grimaud and Wolfram Christ. Singers in the four CDs of Mélodies include Véronique Dietschy, Gérard Souzay, Elly Ameling, Mady Mesplé, Christine Schäfer and Pierrette Alarie. There are four CDs of stage works, namely Le gladiateur, L'enfant prodigue, Le chûte de la maison Usher, Trois chansons de Charles d'Orléans; Salut printemps; Invocation and Le printemps. Plus, of course, Le Martyre de Saint Sebastien and two different performances of Pelléas et Mélisande: the 1991 Vienna recording conducted by Abbado with Maria Ewing and François Le Roux, José van Dam, etc. on two CDs, plus a two-DVD set conducted by Boulez with Alison Hagley and Neill Archer from Cardiff in 1992.
Historical Bonus CDs contain many treasures performed by Ansermet, Karajan, Dervaux, Gulda, Monique Haas, Richter, Arrau, Ciani, Oistrakh, Souzay and others. Altogether, 26 discs of first-class performances, all in the best DG sound.
I recently attended the Toronto Symphony concert conducted by Bramwell Tovey that included the Brahms Second Piano Concerto, billed to be played by Lars Vogt. Substituting for the indisposed Vogt was Inon Barnatan, a young man with a favourable reputation and a fluid technique. The monumental Brahms concerto demands a soloist with a big sound but, to my ears, Barnatan as brilliant as he was, did not have the essential horsepower to fit the occasion.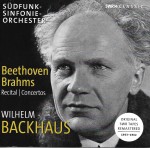 On recordings, an outstanding pianist who most certainly did have that power was Wilhelm Backhaus (1884-1969) who recorded the work several times from 1939 with Karl Bohm in Dresden and finally in 1967 with Böhm again with the Vienna Philharmonic. He had recorded the First Concerto in 1932 with Adrian Boult and the BBC Symphony. He was renowned as a Brahms pianist… also Beethoven, Grieg, Mozart, Schumann, etc. The latest releases from SWR, Beethoven Brahms Recital/Concertos (SWR 19057CD, 3 CDs) includes a set of performances by Backhaus including his final encounter with the Brahms Second Concerto. These discs contain performances by Backhaus recorded live with the SWR, the Südwestrundfunk (Southwest Broadcasting) Symphony Orchestra. The first two discs are all Beethoven beginning with three sonatas, the Third (Op.2 No.3), the Waldstein and the Hammerklavier all recorded in the Ludwigsburg Schloss, Ordenssaal in 1953. The Emperor Concerto follows with the SWR Symphony conducted by Joseph Keilberth recorded in the Liederhalle in Stuttgart in 1962. Finally again from the Liederhalle in 1959 the Brahms Second conducted by Hans Mûller-Kray followed by three Brahms waltzes as encores. The sound quality throughout is astoundingly clear within a marvellous acoustic and correctly balanced from top to bottom, effortlessly handling the tuttis. Backhaus' performances are all in the grand manner, once accepted and expected, now a thing of the past. Nonetheless, these are confidently committed accounts.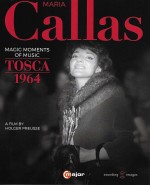 Finally, a Blu-ray video centred on the only surviving footage of a Maria Callas operatic performance. Callas Magic Moments of Music – Tosca 1964, A Film by Holger Preusse (Cmajor 745104, also on DVD). After a two-year hiatus she returned in the second act of Tosca at Covent Garden in 1964. The set was designed expressly for the occasion by Franco Zeffirelli. Her Scarpia was Tito Gobbi, who sang this role in the still-outstanding 1953 recording from Milan under Victor de Sabata. Gobbi was Callas' close friend and admirer who wrote that "with Maria it was not performing but living." Gobbi is Scarpia, from head to toe the grand personification of evil and lust. Together with pertinent interviews and comments by Antonio Pappano, Rolando Villazón, Thomas Hampson and others, this is an absorbing release.