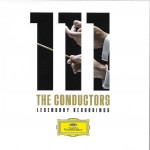 In 2009, to celebrate their 111th year of making recordings, DG issued 111 years of Deutsche Grammophon in two collector's boxes of 55 and 56 CDs containing landmark recordings from the earliest days to the (then) present. Issued as limited editions, they are still to be had… at a price! Since then they have produced more "111" collections: sets featuring the violin and the piano, as well as 11 Great Videos (a 13DVD set) – all a boon to the enquiring minds of countless collectors. The latest, 111 - The Conductors (DG 4797477, 40 CDs) offers outstanding performances from 40 maestros recorded by DG who were part of the classical music scene since the 1930s. There is absolutely no padding in this collection; each performance was critically praised in the initial release, very often becoming the recommended performance in its repertoire. Here are some: Daphnis and Chloe, etc. (Abbado); Saint-Saëns Third Symphony, etc. (Barenboim); Mahler First and Second Symphonies (Bernstein); Bruckner Eighth Symphony (Böhm); Stravinsky Symphony of Psalms, Schoenberg (Boulez); Mendelssohn Fourth, etc. (Fritz Busch, 1950); Prokofiev Third Symphony, etc. (Chailly); Messiaen Turangalîla-Symphony (Y. and J. Loriod; Chung); Brahms Fourth Symphony, Kodály (de Sabata); music of Revueltas, Ginastera, etc. (Gustavo Dudamel); Johann Strauss works (Fricsay); Brahms First, Schubert Eighth (Furtwängler,1952); Beethoven Fourth and Sixth (Gardiner), Bruckner Ninth (Giulini); Mozart Violin Concertos Three, Four and Five (Gidon Kremer, Harnoncourt), Sibelius tone poems (Neeme Järvi); Mozart "Jupiter," Schubert "Unfinished" (Jochum); Beethoven Ninth, etc. (Karajan 1962); Beethoven Symphonies Five and Seven (Carlos Kleiber); Dvořák Symphonies Eight and Nine (Kubelik).
Know that this is not a list of the best of the best, selected from the 40 CDs, but the exact contents of the first 21 discs, conductors A to K! These honoured performances with the finest orchestras, Berlin, Vienna, Boston, Leningrad, London and others, all in the best sound, are beyond any serious criticism. The other 19 include Lehmann, Leitner, Levine, Maazel, Markevitch, Mravinsky, Andris Nelsons, Ozawa, Nézet-Séguin, Rattle, Steinberg, Previn, Sinopoli, Thielemann, Minkowski, Schuricht … and the list goes on. An irresistible collection all around. See the complete track listing at deutschegrammophon.com/en/cat/4797477.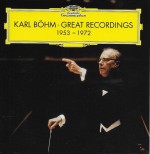 Deutsche Grammophon also offers special editions of selected conductors' recordings, including Karl Böhm's acclaimed interpretations in Karl Böhm: Great Recordings 1953-1972 (4797021, 17 CDs). Böhm was of the old school of conductors, in the best sense of that appellation. He conducted with a firm beat and, as far as I've seen or heard, was not inclined to romanticize. Included is a cross section of powerful performances, mostly with the Berlin Philharmonic with whom he had a close working relationship over the years: Beethoven, Symphonies 3, 5, 7 and the Missa Solemnis; Brahms Symphonies 1 and 2; Haydn The Seasons; lots of Mozart; Mahler Kindertotenlieder and four Rückert Lieder (Fischer-Dieskau); and lots of Richard Strauss. Just as one would expect. Also of interest is a 40-minute rehearsal followed by the complete performance of Schubert's Ninth Symphony (Berlin, 1963).
As an aside, consider Böhm's business-like tempi in Wagner's Ring as heard in the 1966/67 live recordings from Bayreuth issued a few years ago, re-mastered on Decca (4782367, 14 CDs). It has been argued that Böhm's faster-than-usual, objective tempi are a downside, but listening with a different attitude can lead to a different appreciation. Incidentally, Birgit Nilsson fans may know that of all her recordings including the Solti, she considered this to be her finest Brunnhilde.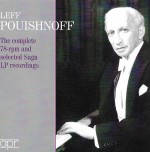 It is a fact of life that in the performing arts, fame can be and often is short-lived for instrumentalists, vocalists and conductors alike. Appian Recordings has gone to a lot of search and research to issue a 2CD set of pianist Leff Pouishnoff – The Complete 78-rpm and selected Saga LP recordings (APR2022 aprrecordings.co.uk). I'm sure that some aficionados recognize the name but I did not. Leff Pouishnoff (1891-1959) was born in Odessa, the birthplace of so many famous names in the classical hierarchy. The parents of George Gershwin and Bob Dylan also migrated from Odessa. Pouishnoff studied composition at the St. Petersburg Conservatory with Rimsky-Korsakov, Liadov and Glazunov, graduating in 1910 with a Gold Medal. In 1911 he toured with violinist Leopold Auer. The Russian Revolution forced him into exile and he went to Persia, where he became the first pianist ever to tour that country. He went to Paris but soon moved to London where he did rather well, giving five recitals in Wigmore Hall during February and March 1921 playing Bach, Rachmaninov and Scriabin to great acclaim.
From 1921 on, one can almost track the course of his life via his recordings. He played at the Proms in 1922 and recorded four sides for Columbia that are to be heard on the first disc of this release. Six more sides in 1923. He made his North American debut in 1923, then back at the 1923 Proms, returning to tour the United States in 1924. It was in the 1920s he earned a reputation as a Chopin player and in 1926 gave a week of Chopin recitals in Wigmore Hall. So successful were they that he repeated the series in 1927.
In May 1926, the dawn of electric recordings, Pouishnoff set down the Rosamunde Ballet music of Schubert and Glazunov's Polka. In March 1928 for the Schubert centenary, he recorded the Sonata in G Major "Fantasie" op.78 "that displays all of Pouishnoff's best qualities, the luminous tone, elegance and suave control." Heard here on CD1, it does. He made his last recordings for Columbia in February and March 1929. During the Second World War he continued playing and gave concerts for the troops but in truth, his halcyon days were back in the 1920s.
After the war, it seemed that his repertoire was out of favour, to be replaced by such heavies as Artur Schnabel and Wilhelm Backhaus playing more substantial works from the Austro-German school. He returned to the studio in mid-1948, this time for HMV where he recorded five Chopin sides. In 1958 Saga Records brought him back for some Chopin and the longer Theme and Variations by Glazunov and much more. Leff Pouishnoff died in June 1959, followed less than three weeks later by his wife, who chose to die. All his 78s are here and some Saga items although there is a mystery, detailed in the booklet, concerning the whereabouts of the missing Saga tapes. Along with the Schubert Sonata, which runs 31 minutes, and the Glazunov Theme and Variations at 18 minutes, there are 33 charming short pieces by the masters, masterfully delivered. Very pleasant listening. The two-disc set is priced as one.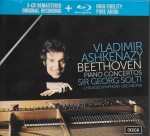 Decca and DG are reissuing some outstanding analog recordings in new remastered editions on Blu-ray audio discs. I should say audio disc, singular, as there is the complete Karajan Ring Cycle on one disc, and a complete Salome with Nilsson sounding shockingly real on one disc. Now we have the five Beethoven Piano Concertos from Vladimir Ashkenazy with Georg Solti and the Chicago Symphony Orchestra on a single Blu-ray disc packaged with three newly remastered regular CDs. These acknowledged performances and recordings enjoy a new reality, particularly on the +Blu-ray edition (Decca 4832579, 3 CDs & 1 Blu-ray disc).