As the years go by, fewer and fewer people recognize or remember Grace Bumbry. One of her era's greatest sopranos, Bumbry was born in St. Louis, Missouri on January 4, 1937. Her father was a railroad porter and her mother a schoolteacher. Aged 17, she was awarded the first prize at a local radio station, singing O don fatale from Don Carlos. One of the prizes was a scholarship to the local conservatory that happened to be segregated and declined to accept her. The promoters arranged for her to attend the Boston University College of Fine Arts, later transferring to Northwestern University. There she met Lotte Lehmann with whom she later studied in Santa Barbara, California, Lehmann becoming her early mentor. In 1958, she was a joint winner of the Metropolitan Opera National Council Auditions with soprano Martina Arroyo and later that year, she made her recital debut in Paris. Her operatic debut was at the Paris Opera in 1960 singing Amneris in Aida. At an audition in Cologne where Wolfgang Sawallisch was looking for a new Carmen, she was passed over but Sawallisch sent her name to Wieland Wagner who was casting a new Tannhäuser. At her audition in Bayreuth she told Wagner that "I didn't have a single German work in my repertory, to which he replied, 'That doesn't matter, just sing what you can do best' and the best thing I could sing then was O don fatale from Don Carlo. After the audition I was sitting backstage…at the point of gathering my things and leaving when Wagner's assistant…took me to Wagner's office…where Wieland asked me 'Frau Bumbry, can you imagine being our new Venus?'" The 1961 production of Tannhäuser was a triumph all around but particularly for Bumbry, the first black singer to appear in Bayreuth. Conservative opera goers were most offended at the very thought but by the end of the performance she had won over the audience and there followed 30 minutes of applause and 42 curtain calls for "Bayreuth's Black Venus." Her career was assured and for decades she was in demand in opera houses around the world including Toronto, where from September 20 to October 4, 1975 we saw and heard her in Richard Strauss' Salome. I recall it well.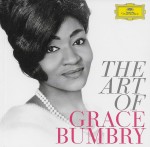 Over her performing career which lasted well into the 1990s she first sang as a mezzo, then a soprano and back to a mezzo although she was sometimes critiqued as not a true soprano. A broad cross-section of her recordings has been collected in The Art of Grace Bumbry (DG 482 7626, 8 CDs and 1 DVD). Quite unexpected are elegant performances of two Handel oratorios produced by Westminster in which she sings as an alto. Handel's Israel in Egypt (1957) and Judas Maccabaeus (1958) were conducted by Maurice Abravanel and recorded in the Assembly Hall in Salt Lake City with soloists, including Martina Arroyo in Maccabaeus, the Utah Symphony Orchestra and the University of Utah Chorus. The fifth CD features the great arias from the works of Handel, Gluck, Mascagni, Bizet, Gounod, Saint-Saëns, Tchaikovsky, Falla and Verdi including, as expected, O don fatale. Disc 6 has Verdi and Wagner arias plus six Lieder by Brahms. The seventh is all Lieder by Schubert, Brahms, Liszt, Wolf and Richard Strauss. CD 8, With Love, is a pop collection from 1995 including Just Like a Woman, Smile, My Way and a duet with Dionne Warwick, Sometimes When We Touch.
The final disc is a knockout, a DVD of Carmen, one of her celebrated roles, from 1967 with Jon Vickers, Mirella Freni, et al. with the Vienna Philharmonic conducted by Herbert von Karajan. The audio was recorded in the Musikverein in June and the video in August in Munich. The lip syncing is perfect and the illusion of being in the presence of a live performance is utterly convincing. The believable performances by the principals in their heyday and all those on stage backed by the vitality and sonorities generated by the orchestra certainly make this a version to covet.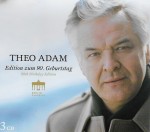 Theo Adam, the bass-baritone who celebrated his 90th birthday last August, is still to be heard in countless recordings made over the second half of the 20th century. Born in Dresden, he first sang with the Dresden Kreuzchor and later studied with Rudolf Dietrich making his professional operatic debut in 1949, singing the hermit in Der Freischütz at the Semperoper. In 1952 he joined the Berlin State Opera, the same year that he appeared in Bayreuth in a small role. He returned to Bayreuth each year, winning roles in Parsifal and Lohengrin, Fasolt in the 1958 Das Rheingold and, at last, his first of a series as Wotan in the 1963 production of the Ring Cycle. Adam's voice has a quite recognizable edge and is not fatiguing in any setting from Bach to Mozart to Berg, from grand opera to sacred music to song cycles.
Three of his popular CDs, Bach Sacred Arias, Wagner and Richard Strauss Arias and Mozart Arias, have been collected in a single package, Theo Adam 90th Birthday Edition (Berlin Classics 0300824BC 3 CDs), at what amounts to a surprisingly low price. The Bach disc contains arias from the Christmas Oratorio, the Matthew Passion and six cantatas. The Wagner disc has five top arias, together with Strauss duets from Der Rosenkavalier and Die Frau ohne Schatten with mezzo Gisela Schröter. Finally, the Mozart disc has 17 arias from six operas. A worthwhile collection for a small investment.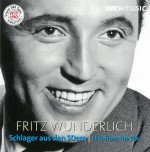 The late lamented lyric tenor Fritz Wunderlich was at home in opera, operetta and popular songs and so it was with a great deal of pleasure that I received a copy of Hits from the 50s from SWR MUSIC (SWR 19029, 2 CDs). Unfortunately for me, the 39 songs are popular songs from Germany, sung in German. A disappointment, but friends who have German were happy to hear Wunderlich sing them.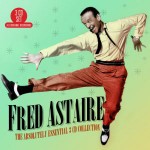 There is a 3-CD collection of songs from the 1940s and 50s that can be recommended without reservation. The Absolutely Essential 3-CD Collection (Big-3, BT 3119) is the aptly titled compilation of 60 items from that era sung by Fred Astaire in his inimitable style and voice that are still universally admired even after so many years. The fact is that he didn't sound like anyone else nor, it seems, did he have any rivals, nor anyone who cared to emulate him. The closest that anyone came was fellow song-and-dance man Gene Kelly but Astaire's je ne sais quoi, his panache, was his alone. As far as I can see, every original Astaire recording is here, 60 of them including Cheek to Cheek; A Fine Romance; Puttin' on the Ritz; Let's Face the Music and Dance; Dearly Beloved; A Foggy Day in London Town; Top Hat, White Tie and Tails; Night and Day; They Can't Take That Away from Me; and the rest of his classics. For classics they are, incomparable and timeless.