Review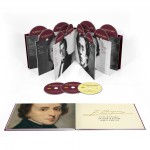 For
The Complete Chopin – Deluxe Edition (DG 4796555, 20 CDs, one DVD, large 108 page book)
DG has assembled an outstanding collection of well-chosen performances from its archives together with new recordings by many contemporary artists.
To celebrate the 200th anniversary of Chopin's birth in 1810, DG issued Chopin, The Complete Edition on 17 CDs (DG 4778445) that certainly was complete as claimed and contained acclaimed performances of, well, everything. The contents of that edition are pretty well duplicated in this new one… with some changes and four extra discs of some interesting alternative performances. Changes to this set are: The Arrau/Inbal versions of the works for piano and orchestra are replaced by a new June 2016 recording by Canadian Jan Lisiecki conducted by Krzysztof Urbanski; The Rondo for two pianos in C Major Op. posth.73 passes from Kurt Bauer and Heidi Bung to Daniil Trifonov and Sergei Babayan; For the 19 Waltzes, Ashkenazy is replaced by Alice Sara Ott; The Grand Duo concertant on themes by Meyerbeer finds Anner Bylsma and Lambert Orkis replaced by Gabriel Schwabe and José Galiado.
CD 18 in the new set is a live recording from the XVII International Chopin Competition in Warsaw in 2015 of the winner, South Korean Seong-Jin Cho who was 21 years old at the time. His artistry came as a pleasant surprise for, unlike many technical wizards, he plays with understanding beyond his years without empty artifice. There are the 24 Preludes, the Nocturne in C Minor Op.48 No.1, the Second Piano Sonata and finally the Polonaise in A-flat Major Op.53. All adding up to an unexpected, insightful and thrilling 73 minutes.
CD 19 has 20 legendary Chopin pianists, the usual suspects and others – Halina Czerny-Stefanska, Adam Harasiewicz, Monique Haas, Julian von Karolyi, Géza Anda and Stefan Askenase – playing familiar shorter pieces from the repertoire. CD 20 has pianists from the younger generation: Lisiecki, Trifonov, Blechacz, Grosvenor, Grimaud, Uja Wang and others. Disc 21 is a DVD of Arthur Rubinstein playing the Second Piano Concerto with André Previn conducting the LSO in 1947 and the Second Scherzo from 1973. Both very worthwhile in very good video.
The new edition is an overtly opulent production in the form of a unique 11" wide x 8" tall "book" bound in burgundy vinyl moleskin, with gold embossed boards. Enclosed is an impressive, well-researched and illustrated 11" x 7 5/8" 108-page book. If you own the earlier set you may not consider this a reasonable purchase. If you don't, the peerless new edition is certainly the one to have.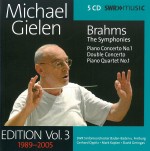 Volume Three of the Michael Gielen Edition from SWR Music is an all-Brahms program featuring the four symphonies, together with The Tragic Overture, The Variations on a Theme of Haydn, First Piano Concerto, Double Concerto, Schicksalslied and the Schoenberg transcription of the First Piano Quartet Op.25 (SWR19022CD, 5 CDs).
Many of us have a favourite go-to Brahms symphony and mine is the Second, listening through to the end and hoping for the extraordinary final movement edge-of-the-chair, breakneck accelerando as heard in the closing pages of the Bruno Walter/New York Philharmonic 1953 recording. Gielen's Second Symphony finale does not accelerate but maintains a steady forward thrust through to an exultant coda of great power. The Haydn Variations that follow the symphony reflect the same attitude to Brahms even though the symphony dates from 2005 and the Variations from 1996.
The soloist in the First Piano Concerto is Gerhard Oppitz, considered to be one of the leading Brahms interpreters. On the same CD is Schicksalslied Op.54, one of Brahms' many works for chorus and orchestra. In the summer of 1868, Brahms read and was deeply affected by Hyperions Schicksalslied (Song of Destiny) by Hölderlin, the author of verses set by so many composers. He began setting it in 1868 but was unsure of how to finish and before he directed the first performance in 1871 he had written the Alto Rhapsody. Soloists for the Double Concerto are Mark Kaplan and cellist David Geringas.
Throughout the five discs we are treated to a celebration of Brahms as an inspired, virile composer and not an aging bearded gentleman. Gielen's Brahms is not lugubrious but is vital and optimistic, the textures throughout are translucent while still maintaining a suitable foundation in the low strings and tympani. The perfectly engineered sound throughout is full-bodied and clearly detailed.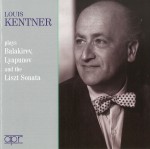 Louis Kentner, the late Hungarian/British pianist (1905-1987), today remembered mainly by collectors, was widely respected across the middle of the last century. Ironically, he had a runaway bestselling recording that sold millions and millions of copies worldwide but did not identify him as the pianist. The producers of the 1941 British film Dangerous Moonlight (aka Suicide Squadron) wanted a Rachmaninoff-like concerto for the plot and commissioned Richard Addinsell who handed his notes to his orchestrator, Roy Douglas who then created The Warsaw Concerto. Kentner forbade his name to appear in the opening credits nor on the 12" Columbia 78 that followed, believing that it would wound his reputation. Columbia continued to record him and the 1940s productions are brought together on a new Appian set in all new transfers (APR 6020, 2 CDs). The most deservedly celebrated entry is the 1949 recordings of the 12 Études d'exécution transcendante Op.11 by Sergy Lyapunov, written as an homage to Liszt's, completing the tonalities Liszt had not attempted. Newcomers to this monumental opus should be enthralled both by Lyapunov's invention and the intensity and sensitivity of the playing. The other works on this collection include four by Mili Balakirev: Piano Sonata in B-flat Minor, Reverie, Mazurka No.6 in A-flat Major and the notoriously difficult Islamey. Add to these, Kentner's very rare 1948 recording of the Liszt Sonata in B Minor. This performance is unusual, if not unique. A cerebral reading compared to the mainstream romantic versions, on first hearing this one seems to have little or no pulse nor phrase-to-phrase continuity, sounding rather static with statements rather than a narrative. However, after listening to it several times over a few weeks it now makes sense in its own right and is arguably persuasive.