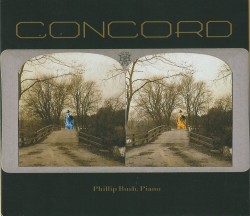 Charles Ives – Concord
Phillip Bush
Neuma 169 (neumarecords.org)
More than a century ago, a reviewer writing in Musical America described Charles Ives' second piano sonata, Concord, as "without any doubt the most startling conglomeration of meaningless notes that we have ever seen engraved on white paper." Completed in 1915, the piece has since come to be regarded as a remarkable example of Ives' mature style, with each of the four movements representing American literary figures with ties to Concord, Massachusetts. Through its size, technical challenges and overall breadth it's a far from easy composition to bring off convincingly, but American pianist Philip Bush does so admirably in this Neuma recording.
The difficult and lengthy first two movements Emerson and Hawthorne are performed with a particular bravado, while the gentler third movement The Alcotts – an homage to the literary sisters – evokes a true sense of nostalgia. The finale, Thoreau, is the slowest movement and the use of a flute in the opening section greatly enhances the wistful, hymn-like mood. The movement ultimately builds in intensity before leading to a surprisingly serene conclusion. Once again, Bush demonstrates an impressive command of this most daunting material.
Coupled with the Concord Sonata is the set of Six Preludes for Piano Op.15 by American composer Marion Bauer written in 1922. Composed in a post-impressionist style, they form an attractive study in contrasts and are a worthy pairing with the Ives.
Music by an established American composer and by another who perhaps deserves greater recognition – this disc should be a staple in the catalogue.