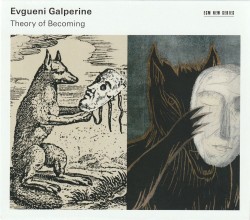 Theory of Becoming
Evgueni Galperine
ECM New Series 2744 (ecmrecords.com)
Minimalist in nature and deeply personal, Theory of Becoming reveals a turn in Evgueni Galperine's musical direction. Primarily known for his gorgeous film music, Galperine turns inward on this album, shifting from compositions inspired by cinematic images and stories to music that brings in focus shades of the human condition through inner experience. This new world is grandly rich in depth and variety of ideas. Galperine uses both real and virtual instruments to create an architecture of sound, expanding colours, textures and possibilities of acoustic instruments and establishing a mixture of textural, exciting and somewhat oracular elements with electronic and manipulated sounds. This world is so visceral that each composition feels like a minimalist diorama. It is rare to hear such a strong emotional expression in the realms of electronic music and Galperine recognizes the power of that rarity.
There is a strong imaginative element in all compositions and threads that involve magical settings supported by electronic sounds. In Loplop im Wald, inspired by Max Ernst's paintings, we meet a magical bird called Loplop that inhabits a mystical forest humans cannot cross. Oumuamua, Space Wanderings is a sonic exploration of travelling through space in search of answers. This Town Will Burn Before Dawn, describes the aftermath of a war, destruction embedded in deep ominous sounds coming from the belly of the beast (war) and hope floating above in the string's layers.
While Galperine creates and directs the electronics and sampling, the guest artists, Sergei Nakariakov (trumpet), Sébastien Hurtaud (cello) and Maria Vasyukova (voice), each leave their signature marks. In some aspects, Theory of Becoming is a musical/philosophical treatise on the depth of the human experience.