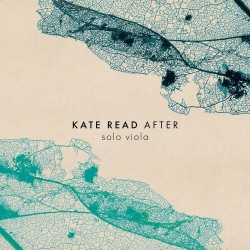 Kate Read – After
Kate Read
Leaf Music LM258 (leaf-music.ca)
A curious mixture of contemporary solo viola compositions and Baroque pieces, this debut album by Kate Read is engaging and explorative, as well as enterprising. Although not a theme, the music on this album indirectly depicts the natural elements of Newfoundland, where Read currently resides – beauty amidst ruggedness, vastness of (sonic) space, wildness of possibilities. Read is a powerful performer, fully present in every phrase and turn, adventurous, always aware of the structure and direction. Her sound is imposing yet gentle, with an array of colours and expressions.
All contemporary pieces on the album involve electronics but don't venture into the avant-garde, entailing structural symmetry and classical aesthetics. Two are new commissions by Kate Read: Evennight by Benton Roark, a neverending joyful cascade of 16th notes using amplified viola with analogue electronics, and Blackwood Sketches by Andrew Staniland. The latter is a visceral, expressive take on an acclaimed etching by David Blackwood, Fire Down on the Labrador, and involves synth tones and low notes to depict the whale, ice and wood underneath and in between the viola's segments. Keep in Touch by Nico Muhly features an unusual, pre-recorded track that blends with the viola exquisitely. The album closes with Aftermath, a collaborative improvisation on two of Bach's pieces with Michelle LaCour, featuring synthesized and found sounds, pedals and layering.
Baroque pieces by Biber (Passacaglia from Mystery Sonata No.16) and Bach (movements from Violin Sonata No.3) are arranged for viola by Read and played with passion. The unusual programming gives a spark to this album.