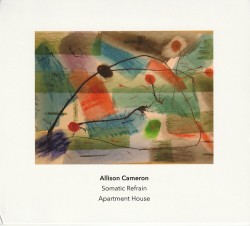 Allison Cameron – Somatic Refrain
Apartment House
Another Timbre at196 (anothertimbre.com)
Somatic Refrain is another in the English label Another Timbre's extensive series of recordings of contemporary Canadian composers' works performed by Apartment House, a distinguished British ensemble dedicated to performing contemporary music. The works here, composed between 1996 and 2008, spring from different creative impulses but share a certain probing calm, a deliberated tone of sensitive inquiry, as if the pieces were already there and Cameron was examining why and revealing their graces.
Somatic Refrain (1996) is a solo piece for bass clarinet. Originally commissioned by Torontonian Ronda Rindone it's played here by Heather Roche of Apartment House. The instrument's extraordinary timbral possibilities have been more extensively examined in improvised music than in composition, and the intrepid Cameron explores the range of Rindone's mastery of multiphonics, creating a piece that demonstrates the instrument's richly expressive possibilities. H (2008) comes from a period when Cameron was exploring folk music and assembled an Alison Cameron Band in Toronto for those ends. Here she plays banjo, bass harmonica and toy piano with Eric Chenaux and Stephen Parkinson, on acoustic and electric guitars respectively, forging a folk-like lament that's at once somber, resilient and distinctly homespun.
Similar qualities infuse the longer works performed by Apartment House. Pliny (2005) and the three-movement Retablo (1998) reflect a sensibility as much formed by the deliberated calm of medieval music as by contemporary works. The former, inspired by Jorge Luis Borges' tale Funes, the Memorius, initially invokes a serene clarity that is gradually permeated by a spreading dissonance; the latter suggests both order and mystery in a three-movement work inspired in part by Tarot cards.
An interview with Cameron discussing these pieces on Another Timbre's website provides enriching insights into her work and the playful dimension of her creativity.