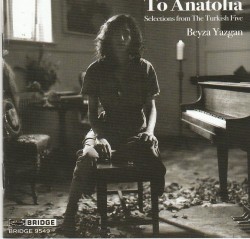 To Anatolia – Selections from the Turkish Five
Beyza Yazgan
Bridge Records 9549 (bridgerecords.com/collections/catalog-all)
A love letter to Anatolia (Asia Minor), this album introduces young artist Beyza Yazgan, a Turkish pianist now based in New York. Yazgan expresses immense pride for her heritage and gentle longing for her homeland through a wonderful selection of piano pieces by a group of 20th-century composers known as the Turkish Five. She also includes her own illustrations and detailed liner notes on Turkish music traditions, thus making this album even more personal.
Yazgan's interpretation of these compositions is simply lovely. Her heartfelt approach brings out beautiful colours from gentle and melancholic pieces. On the other hand, she engages masterfully with complex rhythms in more percussive compositions, making her performance well balanced and charming.
The Turkish Five – Ahmet Adnan Saygun, Ferid Alnar, Ulvi Cemal Erkin, Necil Kazim Akses and Cemal Reşit Rey – transformed the music of their time by introducing Western compositional styles and forms and blending them with rhythms and modes of traditional Turkish folk music and dances. Just as Anatolia itself has been the land of many cultures and flavours, so is the music on this album. From the beautifully atmospheric Little Shepherd by Erkin and feet-stomping Horon by Reşit Rey, to the elegant Zeybek Dance by Alnar, the pieces tell stories of the unique and rich music heritage of this land, its people and customs.