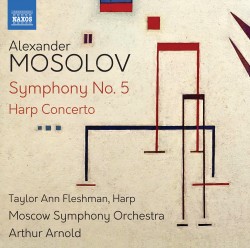 Alexander Mosolov – Symphony No.5; Harp Concerto
Taylor Ann Fleshman; Moscow Symphony Orchestra; Arthur Arnold
Naxos 8.574102 (naxosdirect.com/search/8574102)
Russian composer Alexander Mosolov (1900-1973) was active in the early Soviet era, and his artistic voice sits somewhere between Shostakovich and Prokofiev. The latest recording of director Arthur Arnold and the Moscow Symphony Orchestra is a dedicated release of the lesser-known composer's Fifth Symphony and Harp Concerto. In the former, never performed during the composer's lifetime, Arnold and the Moscow Symphony deliver the work with subtle musicianship and crisp articulation – aspects that are needed to execute the contrasting three movements.
Mosolov's Harp Concerto is a delicate and beautiful work in four movements that takes the listener on a journey from contemplative sustained atmospheres in the first movement, through a mysterious Nocturne, to a charming Gavotte, and finally a flashy Toccata. Harpist Taylor Ann Fleshman's technique and phrasing are outstanding in this performance. Her captivating interpretation leaves no doubt that this work deserves a lasting place in the harp concerto repertoire.
It is always nice to encounter an effort to keep lesser-known composers' music alive – Arnold and the Moscow Symphony certainly make a strong case for increased future performances of Mosolov's music.