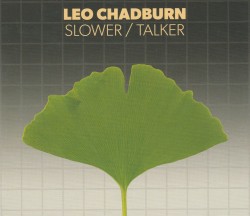 Leo Chadburn – Slower/Talker
Apartment House; Quatuor Bozzini; Gemma Saunders
Library of Nothing Records CD06 (leochadburn.com)
The wild card of the British contemporary classical music scene, composer Leo Chadburn (aka Simon Bookish) widens the scope of his musical experimentation with this remarkable new release. Featuring performances by Quatuor Bozzini (Canada) and Apartment House (UK), and the voices of actress Gemma Saunders and Chadburn himself, the album combines minimalism with spoken word in a way that is symmetrical in form, yet inquisitive and uninhibited in its expression.
The six compositions included on Slower/Talker span a decade of the composer's work. All explore the relationship between found text and its instrumental counterpart, made up of mostly strings and keyboard instruments. The text's subjects are comprised of lists of a kind – names of moth species (The Indistinguishables), topographical features encircling London (Freezywater), a lexicon of words used in the fragrance industry (Vapour Descriptors) or a stream of consciousness and properties of chemical elements (The Halogens). The words are spoken theatrically or in a musical way, always with restraint. Some are sung, understatedly, such as words of Mao Zedong in X Chairman Maos. The instruments are interweaving in and out, mostly supporting, sometimes questioning, making up meanings of their own. The textures created are beautiful in their sparseness. The result is a floating dialogue that is hypnotizing and luring, stripped of drama, smooth, as if outside of this world.
Slower/Talker engages the listener in a subtle way. It is a sonically explorative journey, one worth taking.