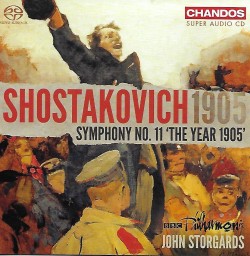 Shostakovich – Symphony No.11, Op.103 "The Year 1905"
BBC Philharmonic, John Storgårds
Chandos CHSA 5278 CD/SACD (naxosdirect.com/search/095115527825)
Shostakovich wrote this symphony during 1956-1957 to commemorate a horrific event from the year before his birth. On January 9, 1905 between 10,000 and 20,000 workers and their families, suffering the miseries inflicted upon them by Russia's rush to industrialize, converged upon Tsar Nicholas II's Winter Palace in St. Petersburg with a petition. The Tsar was not there and had left no one in the palace to receive any petition. On Bloody Sunday, the Tsar's cavalry dutifully cut down 200 of their undefended countrymen.
If you are not familiar with this symphony, it has a program. The first movement depicts the serenity and mood of the spacious palace square. The second movement, titled The Ninth of January, begins quietly and devolves to the determined brutality and slaughter of the workers. The Tsar wins the day. The third movement contains an adagio that depicts the growing resolve within the survivors. The fourth is enigmatic. There are unmistakable overtones of an impending final confrontation, then the triumphant jubilation of the closing pages of the finale moves the listener 13 years ahead to the day that Tsar Nicholas II, the last Tsar, and his family (minus one) were themselves slaughtered. This movement is titled The Tocsin, a warning bell. Was the composer intending the finale with its statement of victory really as a reference to a historical event, or a warning of another, yet-to-be victory?
Finnish maestro John Storgårds is the principal guest conductor of the BBC Philharmonic and one of the busiest around. As the saying goes, he was born to conduct this symphony. He totally embraces the entire work from the tranquility and the real sense of open space in the opening adagio to the jubilant fourth movement. Not one note is wasted. The second movement is all the more powerful due to Storgårds' appropriate, unhurried tempi and balances between strings, brass and percussion. He leans on the brass to powerful effect. The third movement, In Memoriam, allows Storgårds to broaden the tempo to meaningful declarations. The final movement concludes with a jubilant celebration reinforced with four sonorous church bells in the orchestra, an organ and high spirits.
The sound from Chandos is extraordinary. I was listening to the SACD layer in stereo and there were the musicians and the orchestra. I could "see" the flute, the basses, the timpani, the cellos, in truth every instrument exactly where they were in real three dimensions. But they remain in the fabric of the ensemble. No fatigue. Perfect dynamics.
Get a copy. See for yourself.