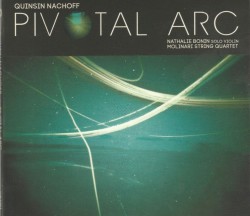 Quinsin Nachoff – Pivotal Arc
Nathalie Bonin; Molinari String Quartet; Quinsin Nachoff; JC Sanford
Whirlwind Recordings WR4761 (quinsin.com)
Composer and saxophonist Quinsin Nachoff has been merging formal composition and an expansive jazz vocabulary since conjoining a string quartet and a jazz group on his 2006 debut Magic Numbers. However, the blurring of traditionally distinct musical categories has reached its high point in the three compositions heard on Pivotal Arc.
The CD's major work is Nachoff's Violin Concerto for soloist Nathalie Bonin, a 46-minute work in the traditional three-movement format. Fusing elements of Berg and Stravinsky and occasionally reminiscent of William Russo's music, the work is written in a heterodox personal idiom for an ensemble that includes the Molinari String Quartet, seven brass and woodwinds, and a jazz-based rhythm section with bassist Mark Helias, drummer Satoshi Takeishi and vibraphonist Michael Davidson providing special propulsion. Conducted by JC Sanford, the performance brims with life, with Bonin bringing a special animation to its tango and Balkan-suffused elements and a cadenza that mingles composed and improvised materials.
Nachoff's String Quartet is filled with dense harmonies and sudden explosions, eschewing any immediate references to the elements of jazz. Each of the four movements is based on a different lead voice, the device contributing to each segment's distinctive quality. The concluding Pivotal Arc, more traditional in its harmonic language, is also the piece that brings improvisation to the fore, from Helias' elegiac arco solo to Nachoff's own tenor saxophone oration, pensive, expressionist, rhapsodic by turn, whether etched in abrasive split tones or soaring highs.