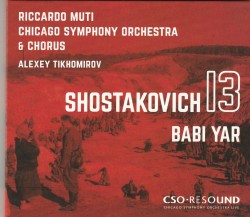 Shostakovich 13 "Babi Yar"
Alexey Tikhomirov; Chicago Symphony Orchestra and Male Chorus; Riccardo Muti
CSO Resound CSOR 901-1901 (naxosdirect.com)
In January of 1970 Ricardo Muti conducted the first performance in Western Europe of Shostakovich's controversial 13th Symphony written in 1962. The orchestra in Rome was the RAI Symphony Orchestra and the soloist was bass Ruggero Raimondi. One of Italy's most highly regarded and enlightened artistic directors succeeded in securing a microfilm of the forbidden symphony and translated the poetry into Italian. A tape of the performance was sent to the composer who liked the translation. That very tape had been presented to Muti by Shostakovich's widow as a gift a few months before this powerful performance in Chicago, making for a real sense of occasion. Muti certainly knows the music, as many of us who have seen the video of this same live performance of this thrilling, cantata-like symphony posted on YouTube will attest. The YouTube sound, of course, pales again this CD release. The CD booklet gives an account of how and why the symphony was banned. Here is an outline.
The symphony is set to texts by Yevgeny Yevtushenko. The composer was drawn to his poem Babi Yar, written in 1961, that tells of the 1941 massacre of 34,000 Jews in 36 hours on a hillside in Kiev. Shostakovich selected four other poems for a five-movement symphony. The selection was made by Shostakovich and was in no way intended by the composer to be a song cycle. Upon its first performance on December 18, 1962 the work was immediately banned with no review. For Khrushchev and the Presidium and others whose antisemitism was ubiquitous, this was an open condemnation. Yevtushenko eventually undertook to emend Babi Yar so that not only Jews were slaughtered in Kiev, and that the Russian people fought the Nazis. There was however one more performance using the unchanged text two days after the first; Kirill Kondrashin conducted it in the Conservatory and that powerful performance was recorded and is available on all formats from Praga Digitals.
Audiences today are once again hearing Yevtushenko's original poem.