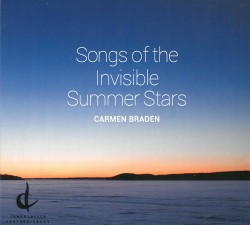 Carmen Braden – Songs of the Invisible Summer Stars
Various Artists
Centrediscs CMCCD 27119 (musiccentre.ca)
The idea of north is central to Canadian composer Carmen Braden's latest release, titled Songs of the Invisible Summer Stars. The imagery of shimmering icy planes at dusk – an impression imbedded within all Canadians whether physically experienced or not – is ever present in Braden's writing for various chamber ensembles. But this imagery is not obvious, nor is it obfuscated through artistic trickery. Braden's music is clear, and it is bright. It drifts, lingers, dances, and breathes at rest. It is at once far and near – a personal representation of a liminal landscape that is at once distant and comforting. One true gift (among many) on the release is the second movement from a piece titled Raven Conspiracy. Braden gives this movement the subtitle of Waltz of Wing and Claw. This music, written for strings, paints the density and impossible geometry of the dream cloud of birds – that dark unbroken remoulding of the sky against sun, ice and smoke. This recording is captured psychogeography – a process that asks us to embrace the playfulness of our surroundings, and to drift among those places without cause. It is clear that Braden is trying to provide a portrait – but also a release – between life and surroundings. With a wide range of instrumentations, colours, and ambiences, the sounds on this recording will haunt and comfort – much like the strange beauty of the northern terrain.