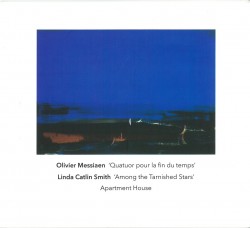 Olivier Messiaen; Linda Catlin Smith
Apartment House
Another Timbre at143 (anothertimbre.com)
Toronto-based composer Linda Catlin Smith has been well represented in Another Timbre's ten-volume release of contemporary Canadian composers, including the eight varied pieces of The Wanderer and the two-CD set, The Drifter. Here she shares a disc with that work of concentration-camp genius, Messiaen's, Quatuor pour la fin du temps. They're performed by the English ensemble Apartment House, and share the instrumentation of violin, cello, clarinet and piano.
This is the second recording of Smith's Among the Tarnished Stars (1998), following the Toronto ensemble The Burdocks. Apartment House stretches the piece to 28 minutes, making the most of Smith's subtle sonic exploration, from the opening's ascending arpeggios through an almost accordion-like blend of clarinet and strings to some wonderfully resonant ensemble clusters that ring out into the emptiness of space.
The resonance and harmony make Among an ideal companion for Quatuor, a piece that transcends the grim circumstances of its composition and initial performance. Apartment House doesn't do anything to contort the work into a post-modern aesthetic, but they do give its gestural elements new life in a rendering that never struggles to add overt emotional content to Messiaen's materials. Clarinetist Heather Roche, however, does succeed in finding a sonority of rare resonance in the brief Intermède.
Perhaps what's most interesting about the CD is the way in which the two works live side by side, the proximity emphasizing the celestial spirit that informs Smith's work.