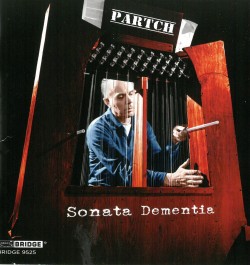 Harry Partch – Sonata Dementia
PARTCH
Bridge Records BRIDGE 9525 (bridgerecords.com)
Harry Partch (1901-1974) was a paradigmatic California outsider composer, embracing the pitches and rhythms of world music – Ancient Greece, Japan and Africa – and substituting a 43-tone scale in just intonation for the equal temperament of Western tradition. A romantic figure who constructed microtonal guitars as a depression-era hobo, he gained a significant audience when Columbia Records recorded him in the 1960s. His home-made instruments emphasized bending string tones and hyper resonant percussion, some made from the refuse of radiation experiments.
The ensemble PARTCH is as true to the letter and spirit of Partch's music as his own groups, and John Schneider's intoned vocals even sound like Partch. The group has been recording landmarks and unheard works alike and supplementing them with Partch's own archival recordings. The opening Ulysses at the Edge of the World immediately suggests the breadth of Partch's inspirations: originally composed for jazz trumpeter Chet Baker, it combines bass marimba, tuned bamboo drums, trumpet and baritone saxophone, and ends with a joke about wanderers (i.e., Ulysses, Baker, Partch) being arrested. Twelve Intrusions (1950) is a song cycle, alive with intoned vocals, elastic pitches, and a concluding chant transcribed from a recording of the New Mexico Isleta tribe. Windsong is a collage-like film score, while Sonata Dementia includes a Scherzo Schizophrenia, indicative of Partch's multi-directional wit.
The CD concludes with Partch's own 1942 recording of Barstow, the brilliant setting of hobo inscriptions here faster (and funnier) than the later Columbia recording.