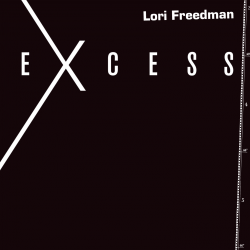 Excess
Lori Freedman
Collection QB CQB 1923 (actuellecd.com)
On Excess, distinguished Montreal-based clarinetist Lori Freedman presses the boundaries of contemporary musical discourse, challenging the clarinet's, the individual composer's and her own expressive depths. Pressing a point, she focuses on bass and contrabass clarinet, perhaps the most vocal of orchestral instruments, with every pitch ready to bend and break, a spray of overtones seemingly ever at the ready. Oh, yes, she challenges the listener as well.
The program is bracketed by its most radical and expansive adventures. British composer Richard Barrett's Interference requires the performer to sing over a four-octave range and play a kick-drum as well as turn in a virtuosic explosion of wild burbling lines from the contrabass clarinet. It's shamanic work, an invocation of spirits, a depth of expression that tests the limits of performance. At the opposite end of the CD, there's French composer Raphaël Cendo's Décombres, a work of "saturation" that fills the sound space with roaring contrabass clarinet and abrasive electronics.
In between, Freedman reaches back to Brian Ferneyhough's daunting Time and Motion Study I (1977) and explores three recent pieces. Freedman worked closely with Vancouverite Paul Steenhuisen on Library on Fire and Paolo Perezzani on Thymos, the former mixing vocal sounds with bass clarinet, the latter the sonic potential of the contrabass, elephants and all. It's her own Withwhatbecomes that's most remarkable: almost unvoiced, it's filled with the quietest, most fleeting, evanescent sounds, more challenging in its own way than anything else here.