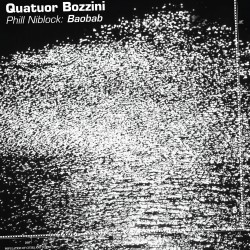 Phill Niblock: Baobab
Quatuor Bozzini
QB CQB 1924 (actuellecd.com)
Montreal-based Quatuor Bozzini has released 28 CDs of contemporary music since their founding in 1999, covering disparate international composers from Aldo Clementi to John Cage along with a host of Canadians, and in the process becoming a preeminent string quartet in contemporary music circles. This recording of two works by American minimalist Phill Niblock testifies to their willingness to take on challenges to find new musical ground.
They play two similar pieces here, each recast from earlier orchestral versions, Disseminate (1998) and Baobab (2011). Niblock has reconceived them as works for five string quartets, the founding Bozzinis (cellist Isabelle and violist Stéphanie) along with violinists Clemens Merkel and Alissa Cheung overdubbing themselves to 20 instruments. They're precisely notated, microtonal works, with long, even bow strokes themselves influencing the exact pitch. The result in each piece is a hive of sound, bow strokes determinedly disappearing until the massed quartets approach the constancy of a bank of oscillators.
It's an orchestra constructed in the recording process, creating works that are literally our experience of them. Each piece is both constantly changing and never changing; each achieves timelessness in a remarkably brief time, 22:18 for Disseminate, 23:11 for Baobab. Here our experience of pitch confounds notions of unison and dissonance, as if the pieces are constantly between them, simultaneously moving towards and away. It's like listening to long and failed orchestral tune-ups that are also a new kind of bliss, experiences to cherish.